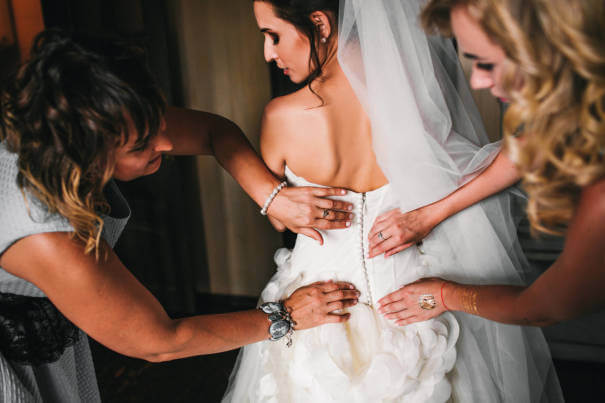 Wedding coordinator is a very important specialist for your event
The wedding coordinator can be your invisible "right hand" at the celebration. "Who is this coordinator?", you may ask. This is the manager of your wedding, who will completely control the progress of your wedding, plan the work of a whole team and solve even seemingly unsolvable situations. While having booked a coordinator for your wedding, you won't have to think where is a photographer, who will meet your guests and when the main course will be served.
If you want to be unworried and enjoy your wedding day, you just need to prepare all the information about your wedding to our coordinators 2 weeks before it. The main responsibilities of the coordinator from the agency "True Love" include:
drawing up a minute plan of the day and coordinating its observance;
work with wedding specialists;
design management (decor, floristry, equipment, photozones);
control of the arrangement and setting of tables, planning a buffet table;
meeting and seating of invitees;

assistance to the bride and groom, guests, vendors;

observance of timing for taking out dishes, calculation of alcoholic beverages;
solution of force majeure;
control cleanliness on the location;
cake delivery control, preparation for its cutting;
final payments to wedding vendors.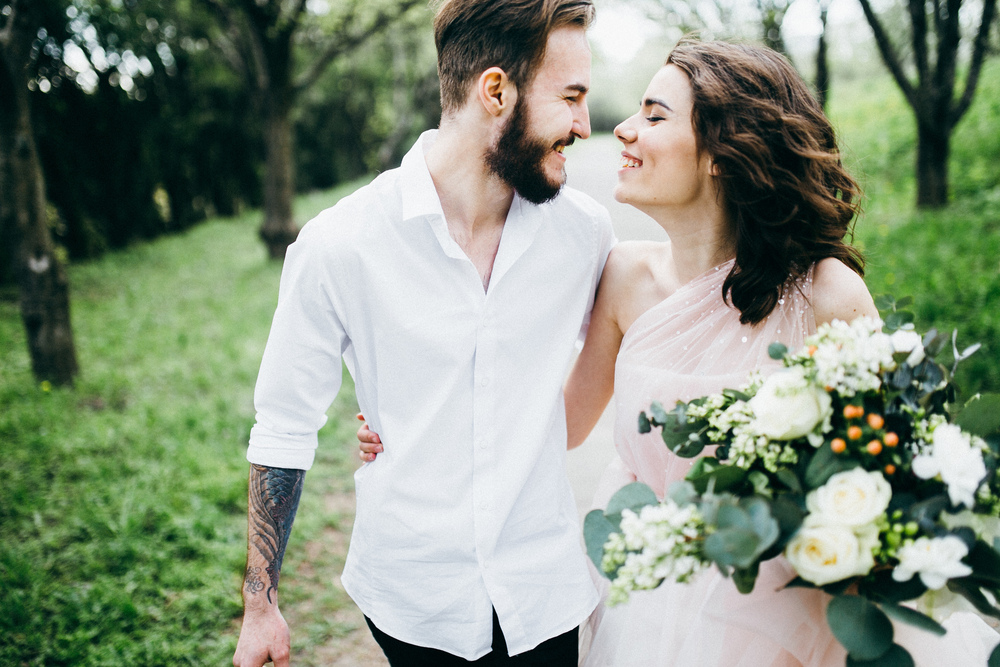 If you need any further assistance on your wedding, the wedding coordinator will take care of it.
The main difference between a wedding planner and a coordinator is the time of engagement in work. The first one embodies your fantasies from scratch and finishes its work before the wedding, the second one appears 2 weeks before your wedding and enters this special day with you.
As a rule, there are always two coordinators at the wedding, the price of each service in Kiev varies from 4000 to 8000 UAH. But if you plan a grand wedding with a large number of guests and scheduled events then three or more professionals will be needed. In this case the services of a manager will also be required, who will distribute tasks between coordinators and plan their work. Then the cost of wedding coordination will be from UAH 8000 up to UAH 15,000 and even higher.
MAKE AN APPOINTMENT FOR A MEETING WITH OUR WEDDING PLANNER
THANK YOU!
OUR WEDDING PLANNER WILL CONTACT YOU SOON!
MAIN PAGE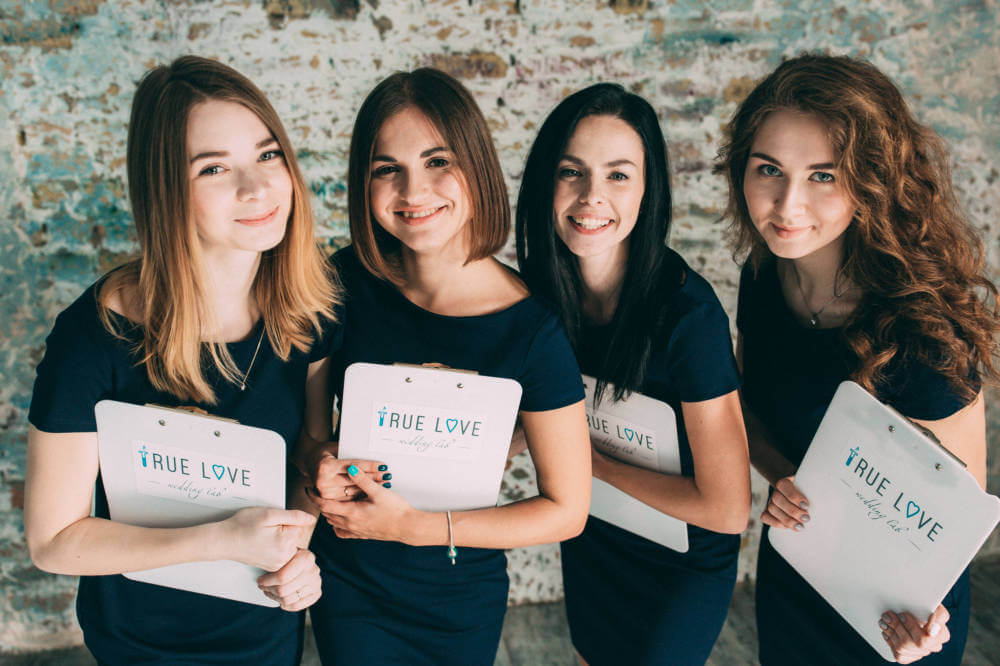 When to start hiring a wedding coordinator
The fact that a wedding coordinator starts her main job on day X does not mean that she can be chosen at the last moment. After all, you need to get to know her, and she needs to examine your plans. Then she will have to think through the whole day to the smallest detail, schedule and coordinate the work of the team you have chosen.
Therefore we recommend hiring the wedding coordinator at least one month before the wedding. And if your ceremony is planned at the height of the "hot" season, you should select and book a specialist as early as possible, because she may be busy on your date.
In favor of early booking of the wedding coordinator she can become an indispensable consultant in wedding planning.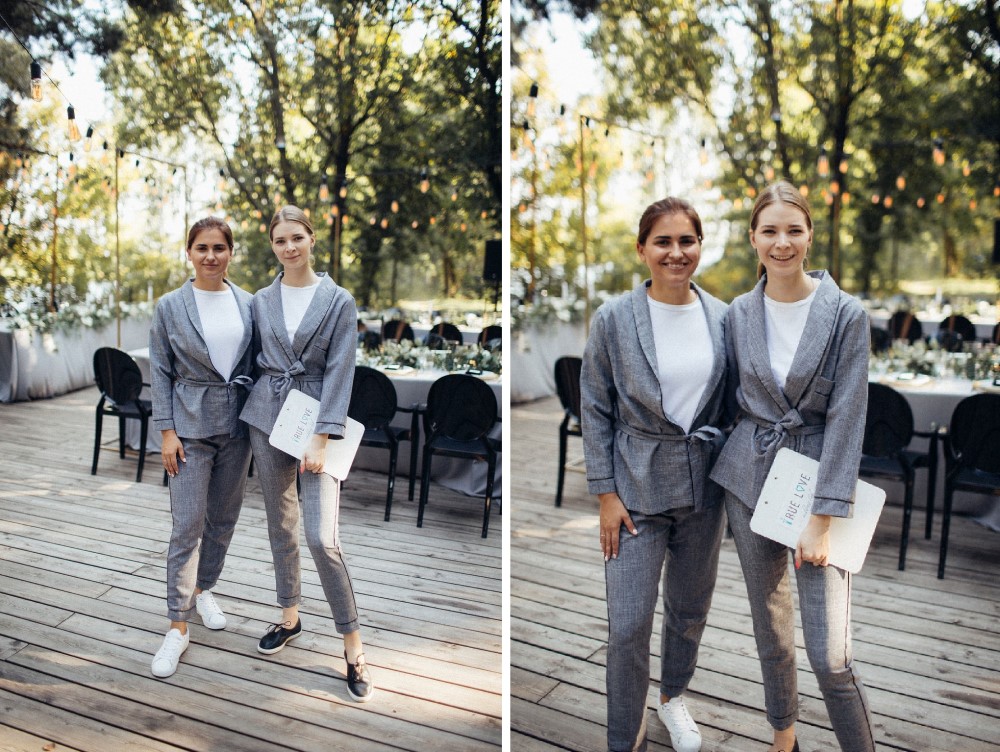 How to choose the wedding coordinator 
In order to select the specialist who will perfectly coordinate your wedding, you need to consider the basic nuances when choosing the candidates.
First, examine the portfolios and social media pages of potential candidates. Do you like how a wedding coordinator looks like, what she writes about herself and her work. How she spends her free time will say a lot about her as a person and whether you can work together.
Secondly, be sure to read the reviews about her work. Notice all the negative points in them and draw conclusions. Don't waste time in communicating with an untrustworthy person.
Next, make appointments to the coordinators you like, select several alternative options to approve the best one. Prepare information about your wedding: concept, venue, number of guests, program and important features, as well as questions of interest.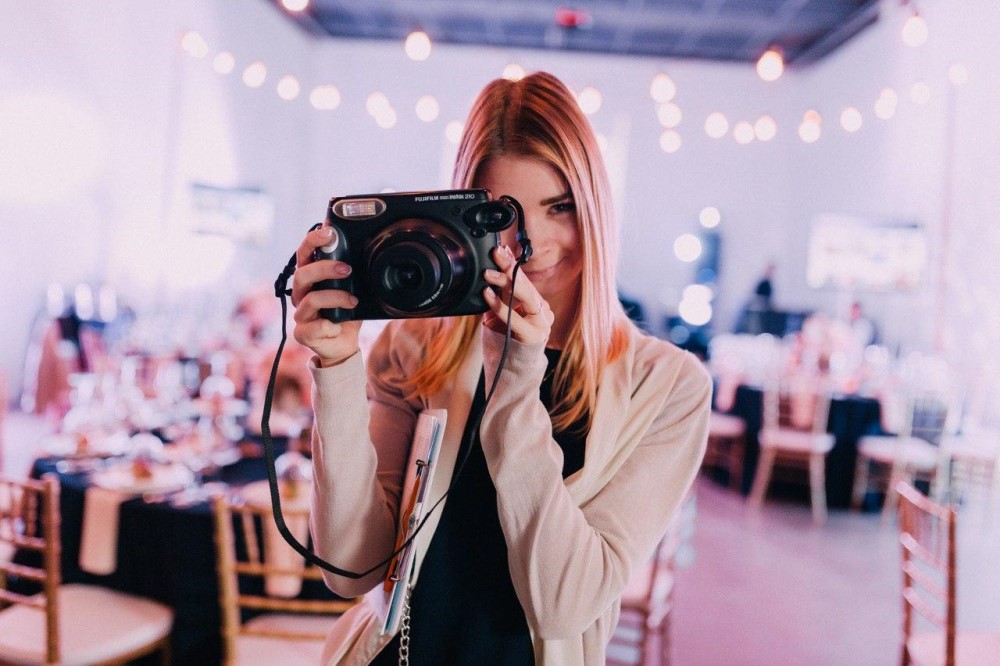 In personal communication, be sure to note punctuality, politeness, demeanor and speech, interest and attentiveness to details. Ask yourself how comfortable you are with this person, because you will have close contact with her. Even the best coordinators can annoy you simply because they are not right for you as a person.
Do not make a decision immediately after and at the time of the meeting. Give yourself time for reflection and a sober assessment. In addition to personal and professional qualities, you should be satisfied with the price of services and the offered conditions.
So your relationship is a subject to mandatory registration by a formal agreement providing all the important details of cooperation: duties, responsibilities, payment procedure, unforeseen circumstances, etc.
Be strict and do not give second chances – if the candidate has responded to the message for a long time or expressed dissatisfaction, this should be a wake-up call for you about her professionalism.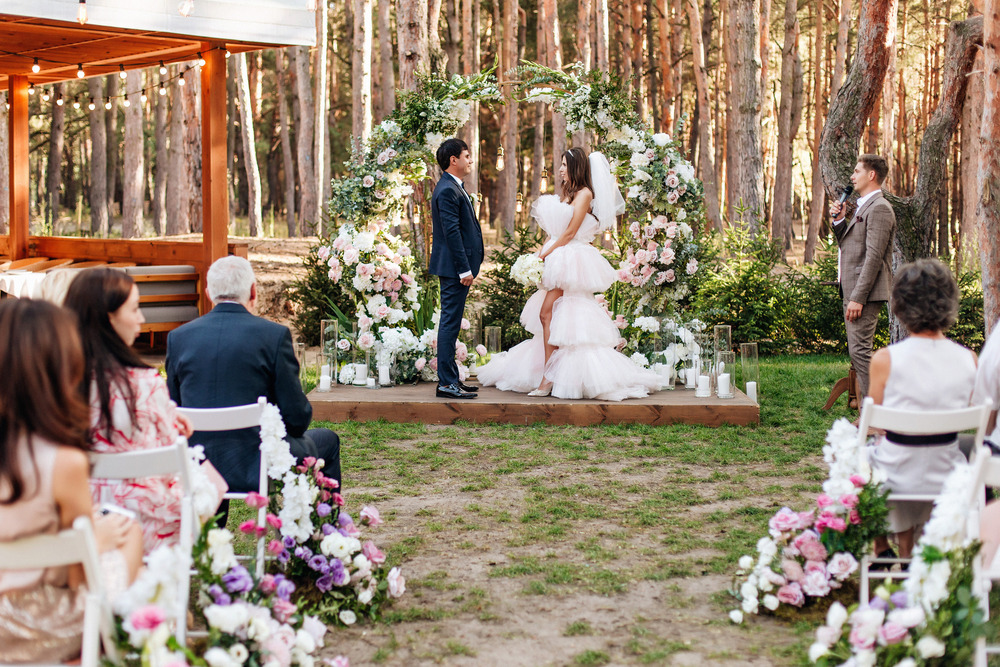 What questions should you ask a wedding coordinator
In order not to get confused and not to forget to ask about the most important things, prepare in advance a list of questions for the wedding coordinator.
First of all, you must find out:
Work experience: the number and scale of events, where she worked in Kiev and other cities, cooperation with other wedding planners and agencies.
Her own contractors: trusted specialists can come in handy for planning your wedding.
Force Majeure Response: find out about unpleasant incidents at her coordinated weddings and how she dealt with them. If the coordinator claims that her weddings are going "like clockwork", this is a reason to think about her honesty. Come up with a force majeure for her and ask her to suggest solutions. For example, that someone is missing dishes, problems with sound, artists are late, or a fight between the guests.
Planning: after talking about your wedding, ask what you should pay special attention to, how she will plan her work and act on the wedding day.
Services: find out what is included in the standard package of services, talk over the area of ​​responsibility at your wedding. Check if the coordinator fulfill your special wishes. Be sure to ask if a contract will be concluded.
Cost: after discussing the final budget, ask if it is possible to pay something extra, and in what cases it may happen.
This is a basic checklist to be clarified during the meeting with your wedding coordinator. Add criteria that are important to you and feel free to ask about anything that matters to make your wedding dream a reality.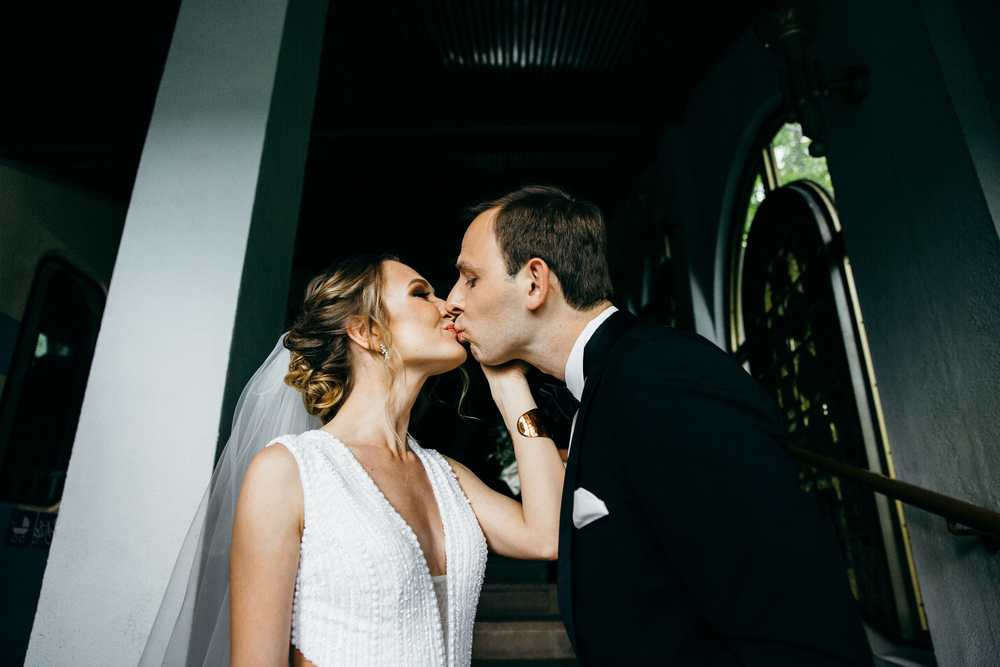 How to order a wedding coordinator
You can book a coordination service in advance, but the wedding coordinator will be able to start active work 2-3 weeks before the wedding, when a step-by-step plan is ready to be implemented.
To book a specialist, you must:
Send a request to truelove.lab@gmail.com.
Clarify all interested questions.
Indicate which planning issues have not yet been resolved.
Describe the wedding in detail.
At the first meeting we will discuss the available information, find out your expectations and wishes. Our consultants will determine what is missing in your ideal plan and advise what and how to complete.
After making a prepayment, we will sign a contract to book your date.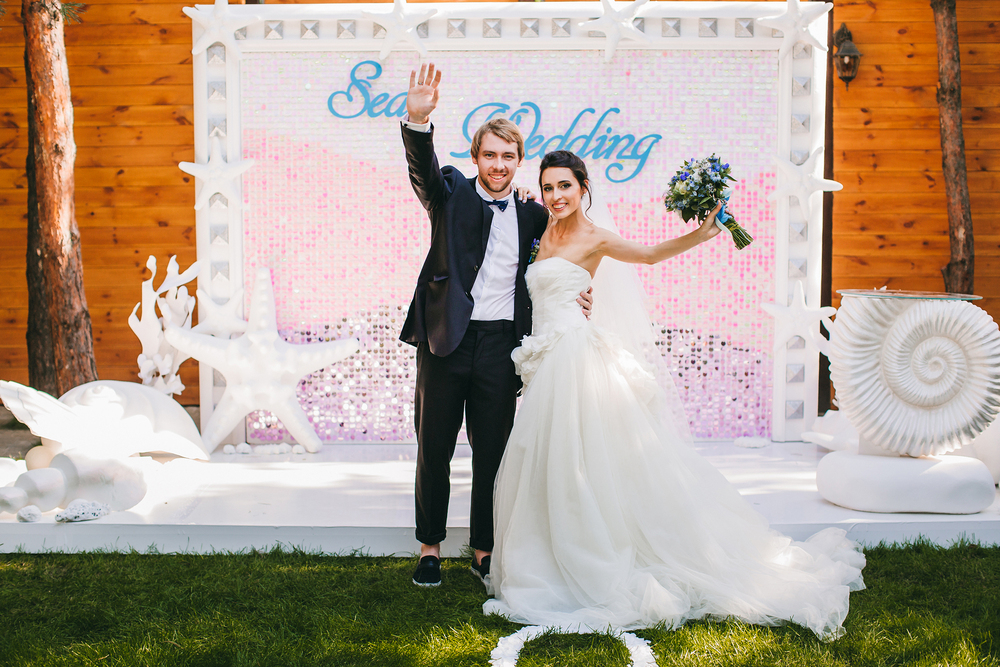 What important things the wedding 

coordination consists of
Until day X the coordinator will meet with you at least three times to agree on every detail. She will also meet with the restaurant manager, decorator, host and other wedding professionals to discuss interactions.
Together with the necessary vendors, she will inspect the wedding location in advance in order to determine its features, as well as the meeting place for guests, the location of tables, dance floor, thematic zones.
The coordinator will record and fulfill all your planning wishes and nuances, for example, check the operation of lighting and sound equipment after installation. She will also agree with the host on the timing and content of the event.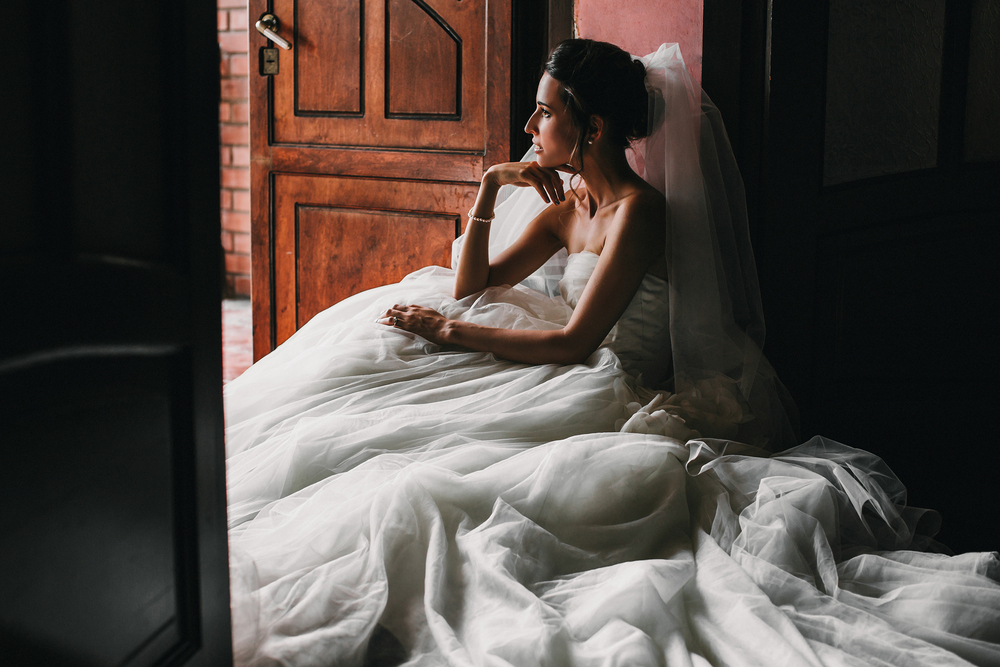 The cost of the wedding coordination service 
So we have found out more about the wedding coordinator: who she is and what is included in the scope of her duties. All that remains is to know the service cost. At the wedding agency "True Love" there are at least two coordinators working in pairs: one is responsible for the guests, another one for the contractors. They help each other if it's necessary.
The budget for the wedding  coordination starts from UAH 10,000 for the work of two coordinators up to UAH 18,000 for the work of 3 coordinators and manager.
The final cost depends on key factors:
date and location of the wedding;
the number of guests and specialists involved;
richness of the show program;
escorting the morning of the bride and groom;
need for other help.
To clarify the cost, please send an information about your wedding in any convenient messenger to +380936541186. Within an hour we will give an answer about the required number of coordinators and the service cost.