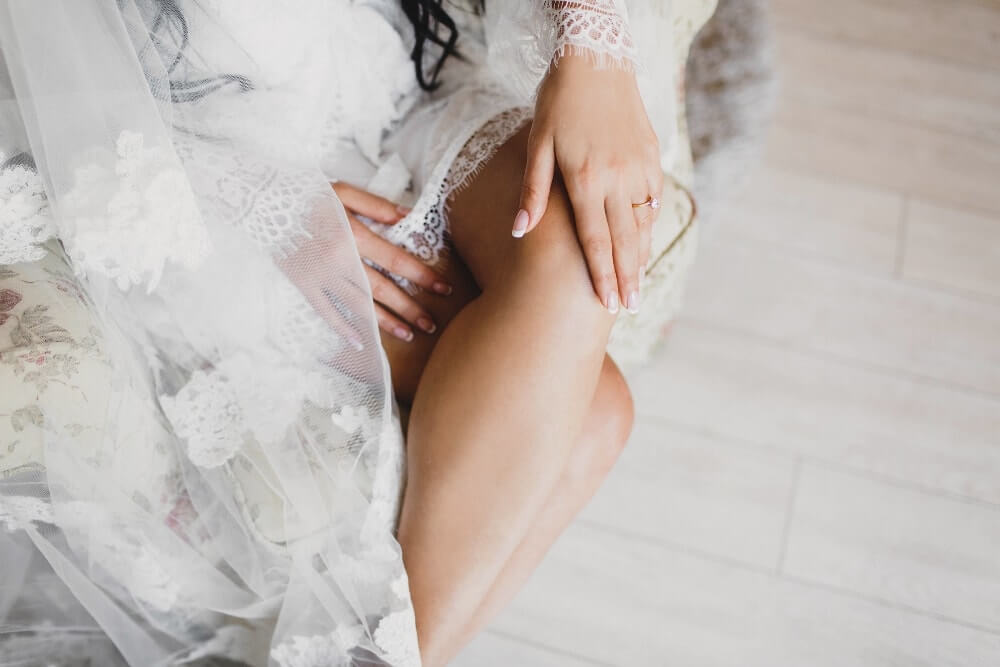 If you said "yes" to your beloved, and half a year is left until the cherished day, congratulations – you have time to make a plan for preparing for the wedding. Thoroughly thinking over everything to the smallest detail and entrusting organizing a wedding to professionals, you not only do not miss the organizational moments, but also take time your beloved. Indeed, on the day of the wedding celebration, it is so important to feel irresistible and smile at your beautiful reflection in the mirror. To achieve this effect, you need a step-by-step plan of action, so get out your notebook and pen, we'll figure it out.
Wedding preparations: where to start
Your wedding appearance directly depends on the chosen wedding date. Therefore, the first stage of beauty planning should be to determine the features of the season and how you can beat them profitably.
So, in spring you can add bright colors to your wedding look with the help of makeup and accessories. The spring bride's hairstyle is associated with something airy and romantic.
For a wedding in winter, first of all, take care of warm accessories. The image of the bride can be mysteriously cold and shimmering or contrastingly warm and inviting.
In the summer heat, take care of comfort and do not overload the image with complex accessories and multi-layered makeup.
A lot also depends on the wedding concept: every detail must correspond to the theme. If your wedding has a style, it should be from A to Z. For example, if you choose a cozy outdoor wedding format, then flashy makeup and bulky hairstyle may look inappropriate.
Colors are equally important. Decide on your holiday palette and stick to it throughout, down to the color of your nails. Such an insignificant detail as a black manicure will be a "black sheep" at a snow-white celebration.
Although now the main wedding trend is to experiment with colors and move away from white. Include in your step-by-step preparation the moment of working out the shades. For example, a celebration can be sustained in one tone: take a closer look at ivory, peach, cream and powdery. Don't be afraid to add bold accents – cheerful orange, dainty silver, elegant emerald, or even luxurious burgundy. It can be anything – a flower in your bouquet, a stone in a piece of jewelry, or a piece of makeup. So, if you look chic with burgundy lips, add quality lipstick to your plan.
Wedding look from A to Z
Before you start your step-by-step plan for Day X, ask yourself the question: "How do I want to look at my own wedding?" and imagine a picture from a to z. What is the condition of your facial skin? What is your hairstyle? Is your body white or bronze tanned? By the way, what about the figure?
Which wedding outfit did you choose? What's with your shoes? Don't forget the little things – what color is your manicure and pedicure?
Visualize how you look in photos. What good poses and angles you choose! In life, the groom is taller than you, but what about the pictures? Did you find the right heel height? Do you like your makeup? What about the shape of the eyebrows?
The answers to these questions are your points of preparation for an unforgettable day.
The image of the bride is more than a dress, hair, makeup and bouquet. Prepare your appearance from scratch and, as they say, from head to toe. Provide accessories, work out the raisins peculiar only to you. For example, play with a tattoo if you have one. Or show off your beautiful back with an open dress. If the theme of your wedding is rock and roll, piercing or imitation of piercing will not be superfluous. Or maybe a bronze skin tone is the cherry on the cake for your wedding look. Little things like that require careful preparation.
Six months is a great time to bring your complete makeover to life.
MAKE AN APPOINTMENT FOR A MEETING WITH OUR WEDDING PLANNER
THANK YOU!
OUR WEDDING PLANNER WILL CONTACT YOU SOON!
MAIN PAGE
Preparation from scratch: approaching the issue comprehensively
If, visualizing yourself on your wedding day, you come to the conclusion that you need a dramatic change from a to z, then your step-by-step plan should be comprehensive. What can be included in your training from scratch:
Improving the condition of skin, nails, hair: consult a specialist, go through the necessary good procedures and start taking vitamins. So you will have a comprehensive approach to the issue of preparing your appearance for one of the best days of your life. Don't forget about the reception after the wedding – your health and beauty deserve due attention.

Regular skin care. If you do this anyway, then tick this preparation item. If not, don't be upset ahead of time. In 6 months of systematic care, you will give your skin the desired firmness, even color, healthy look and radiance. Include rituals for your face in your wedding preparation plan: toning and moisturizing twice a day, exfoliating twice a week, and daily massage. Do not forget about serums, masks, eye cream and other tricks. Find cosmetics that suit your skin type. For a more professional approach and in the presence of problem areas – consult a beautician.

Prepare the body. To get rid of unwanted body hair before your wedding, include laser hair removal in your plan. In a few months, you will achieve tangible results and you will not have to worry about such nonsense.
If your figure does not match the wedding image you created, it's time to start preparing it in stages. No harsh diets and diet pills, it can harm your health or lead to stress. Adjust your diet and start a regular workout that will be enjoyable, such as fitness or gym classes, yoga, dance, and even water aerobics. Choose a personal trainer if you want a wow effect.
The most important thing in wedding preparations and troubles is to remain calm and confident. Remember that any excitement and nerves can negatively affect your appearance. You don't need that.
Transformation of appearance: choosing beauty procedures
If your points of preparing yourself for the wedding involve experimenting with looks, do them not a month before the appointed date, but as soon as possible. Therefore, make an appointment in advance for beauty injections, lip or eyebrow shaping, contouring and the like. Do not leave the dyeing in a new color or a radically different haircut for last. After all, the result may not please you. In such a case, you should have enough time left to correct what you don't like before the wedding. The facial cleansing procedure should also not be at the end of the phased preparation. It takes time for your skin to heal. The same applies to chemical peels, permanent makeup and other harsh treatments.
But you can complete your ideal wedding look with the help of gentle procedures at any time. For example, a month before the day of the ceremony, take a course of a tightening massage for the face or an anti-cellulite massage for the body. Go for a body scrub and body wrap, professionally restore hair, arrange long-term eyebrow styling, eyelash lamination, take a relaxing massage course, do a pedicure and, at the same time, competent foot care.
Half way behind: what to do at this stage
With 3 months of preparation behind us, a lot has already been done. But, most likely, the main thing is yet to come, because you have to complete your dream image in these months. Remembering our preparation points:
Now is the time to go tanning if your tanned body is part of your wedding plans. It's great if there is an opportunity to go on vacation with your loved one. Let the wedding planners take care of the matters and the hassle. Otherwise, an alternative to vacation is a solarium. Start treatment now to gradually achieve the desired shade.

3 months before the wedding is the right time to start teeth whitening. The procedure can take several sessions with breaks in between, so you will have just enough time to get a snow-white smile.

Do not postpone planned beauty procedures, because later you may not have time to work with an unsuccessful result.

You've probably been monitoring your diet for 3 months and exercising actively. Keep up the good work and you will be in your best shape on your wedding day.

Buy a dress. We do not recommend doing this earlier if you are not sure that your preferences and concept will remain the same. When adjusting your figure, you can postpone this question a little more so that you do not have to sew in your wedding dress.
The choice of the very bride's dress should be approached as responsibly as possible. It is better to choose the color of the dress based on the theme of the wedding and your skin tone. Not only that you just like it. The ideal option will be the one that best fits your figure, emphasizing the advantages and hiding the disadvantages. Here are some tips for choosing a style:
A-silhouette – universal, suitable for any height and body type;

the mermaid will favorably emphasize long legs and beat the hourglass figure;

a dress in the Greek style is able to slim and visually stretch the height;

Cinderella or princess dress is a favorite model of many brides, which is not surprising, because it suits everyone, and a good corset creates a perfect silhouette;

short model will show off slender legs and is perfect for hot weather;

a pantsuit – a bold option for a stylish look.
By the way, you don't have to stop at one outfit. The wedding day is long – dress smartly for the ceremony, and change your outfit for a more comfortable one for dancing in the evening.
Do not dwell on your choice of outfit only on salons, you can come up with an original design and order individual tailoring.
At this stage, you should have a clear feeling that half of the pre-wedding path has been covered, as well as an understanding of the preparation points to be completed.
Wedding preparation: what to do in 2 months
With 2 months left before the wedding, it's time to think about the nice little things. We are talking about accessories: shoes, veil, hair ornaments, necklaces, earrings, watches, handbag, in general, everything that will make you irresistible. And also underwear and, of course, a wedding bouquet.
When deciding whether a veil is necessary, give yourself answers to the following questions:
is it important for you to keep tradition;

will this accessory accentuate the beauty of your dress and overall look;

will you be able to take it off without ruining your hair;

Does the veil correspond to the theme of the celebration: at a classic wedding it is difficult to replace it, but a wreath is better for a boho-style holiday;

what about the weather: a veil on a windy or rainy day can be a real problem.
In any case, include the idea that wedding is the only reason to wear this adorable accessory in your reasoning about the veil. If you don't want to miss the moment, choose an option that will look perfect.
An extremely important choice of a bride is shoes, because it depends on them how you will feel on a busy wedding day. The main criterion is the comfort of your legs, because calluses or discomfort when walking can ruin your mood and "give" a feeling of fatigue. Here, step-by-step preparation is also important: do not buy the first model you like and do not take risks with the purchase on the Internet. Try on different options, try walking at home. Remember, you can return an uncomfortable pair or exchange it for a suitable size within 14 days from the date of purchase. It may be worth considering the moment of changing your shoes into more comfortable shoes. For example, for a ceremony and a photo shoot, choose beautiful stiletto heels, and for a celebration – a cute option at a low speed.
When choosing a bridal bouquet, be guided by the season, as well as the colors and style of the wedding. Give preference to colors that harmoniously reflect your essence. So, orchids are about sensuality, roses s – romance, peonies – grace, tulips – sincerity, hydrangeas – confidence. Shades of yellow represent energy, white – tranquility, blue – harmony, red – passion. When preparing a wedding bouquet, consider whether you or the groom have allergies and the nuances of some flowers. For example, the scent of lilies can provoke a headache, and the pollen from their stamens can stain hands or clothing. The stain on the dress is clearly not in your plans.
Time is running out: what does the preparation for the wedding in a month include
When a month is left before the wedding, it's time to put "done" in front of most of the preparation points for it. All the main attributes of the bride must now be purchased. If you have not yet decided on something – there is nowhere to postpone, close these questions.
A month before the wedding, you need to agree with a makeup artist and hairdresser who will create the image of your dreams. We recommend that you meet with experts in advance and discuss the details, or even better – do trial makeup and hairstyle. You can entrust the organization of samples to the wedding coordinator . So on your lucky day, you will be 100% confident in your appearance.
Now is the time to freshen up the haircut and color. By the end of the month, sign up for a manicure, pedicure, eyebrow shaping and your other "routine" beauty treatments. Just do not experiment – they should be done with in the early stages of preparation.
It will not be superfluous to try on the wedding dress again, you may need to correct some points. Connect the selected accessories to the fitting, it may turn out that something is missing, or vice versa, it is better to get rid of some detail.
Another good tip is to practice posing for photographs. They will capture the best wedding moments, which means you should turn out great. Find your best angle, get inspired by other brides, practice some good poses. Just don't worry too much about it so you don't look unnatural.
A few days before the wedding: final preparation
In the last days before the wedding, refuse any cosmetic procedures. Do home care, and it will be enough, because your face at the wedding will shine with happiness. If you have not had time to tidy up your nails or eyebrows, there is simply nowhere to save.
The procedure for getting rid of excess hair using wax is best done no later than 5 days before the date of the event. This will prevent unnecessary irritation and redness on your skin.
Check your wedding makeup and hairstyle arrangements. Think about items that can come in handy and should be on hand. For example:
essential medicines;

adhesive plasters;

napkins;

hygiene items;

mirror;

cosmetics;

nail file;

hairpins, invisible hairspray;

drinking water;

stain remover;

scissors;

threads with a needle, etc.
Determine who will be responsible for these little things, and in whose purse they will be.
Check if all of your step-by-step plan from six months ago has been completed. Take some time to do something enjoyable and relaxing: go to the spa, indulge in a nap, visit the theater, or just read your favorite book. There is no need to fuss and be nervous, and then confidence and calmness will come from you on your wedding day.
Wedding preparations: what not forget
If your wedding preparation from scratch followed the compiled beauty list, then you bought, organized, made, managed and did not forget anything. Just in case, go through the checklist to make sure of this for sure:
Your dress fits perfectly, even if you have lost weight or gained weight because of worries, it does not need to be sutured or embroidered.

You know about the peculiarities of your outfit, for example, that for photographs you need to beautifully lay out the train, or that it is inconvenient to get into the car, and have foreseen who will help you with these nuances.

Your outfit is in harmony with the groom's appearance.

Your shoes are comfortable, and if not quite, you have a comfortable pair to replace.

Tags and labels from clothes are neatly cut off, stickers from the soles of shoes are peeled off.

You have tried on the image completely: the decorations laconically complement the outfit, nothing bothers you, does not press or rub.

All the little things you need are collected, including spare stockings or tights, if this part is included in your image.

You know the properties of your skin, and you know what to do: for example, if your forehead is prone to oily sheen, you have matting wipes.

You have prepared warm clothes in case the wedding is taking place during the cooler season.

You've seen the weather forecast and you know what to expect, which means you have an umbrella and sunglasses.
If nothing of the above is missing, congratulations – you're ready to get married.
Day X: finishing touches
The most important thing to do on your wedding day is to get a good night's sleep. Your well-being and mood depends on the quality of your sleep.
The next thing to do on the day you start your family is to enjoy every moment of it. Enjoy the professionals' work on your hair and face, how you put on your beautiful outfit and how you wear your favorite perfume.
By the way, the chosen scent should also match the wedding look: if your appearance is tenderness itself, then a rich, sensual, heavy sillage will be inappropriate. Please also note that your perfume should not contrast with the pronounced scent of the flowers in your bouquet. Consider the seasonality and location of the celebration: for weddings by the sea a fresh scent is perfect, for wedding ceremony a light floral scent will be harmonious in the garden, and a winter wedding can be supplemented with a complex composition with notes of musk or vanilla. Be careful with dark colored perfumes, as well as oily versions – they can stain your dress.
Another tip – do not be afraid to show emotions, they will only decorate an already dazzling bride. Smile, laugh, be surprised and even cry, if from the heart. Just remember to touch up your makeup later.