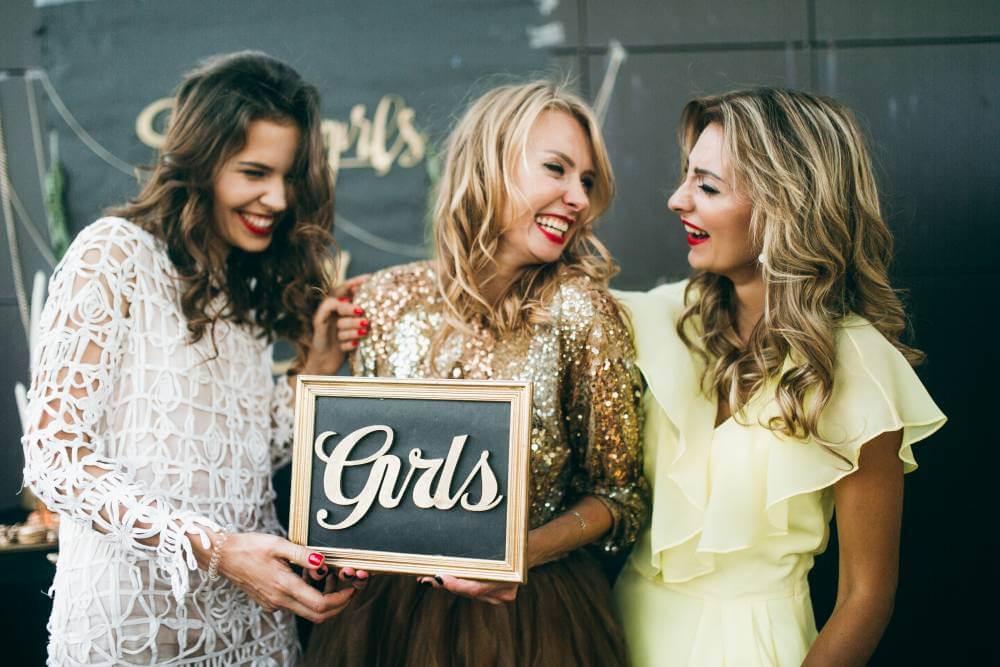 A wedding is an amazing time in the life of each couple in love. But not only due to the pleasant preparation for this special day, conversations about the future family and the choice of a fabulous bride dress. This time is wonderful also due to the existing bright traditions, one of them is a bachelorette party.
So if you are a wonderful bride or her loving bridesmaids who do not know how to plan a bachelorette party in Kiev, we are waiting for you with a huge number of super ideas in our wedding agency. In our opinion the main requirements the best bachelorette party should meet are:
it should be exactly as described by our clients;

it should respond to the interests of the bride and her female company;

it should be suggested an eventful or more relaxed, but specific, timed program;

it should be cheerful, stylish, memorable, and most importantly – comfortable so that each of the girls could relax;

It should be organized at the highest level so that no force majeure would spoil the mood of this day.
To imagine how your ideal bachelorette party might look like, we will tell you how our charming bride Nastya spent this day.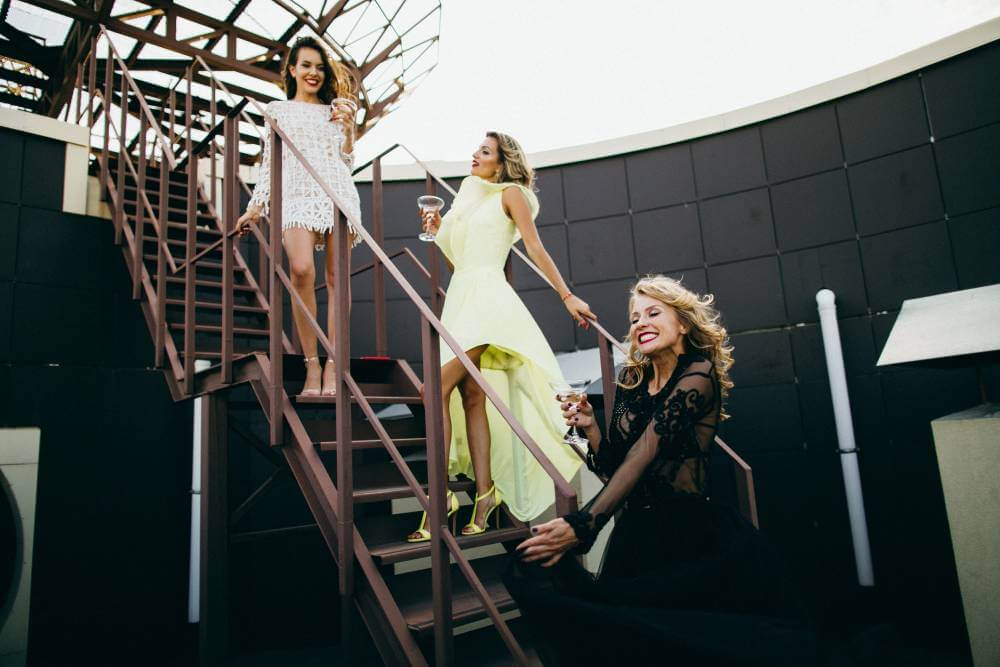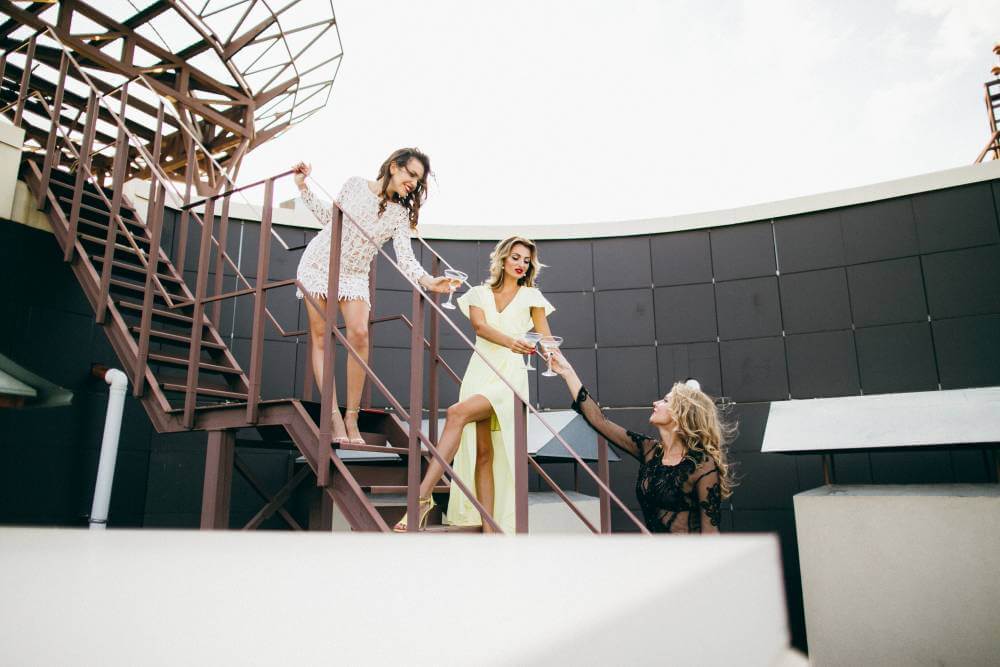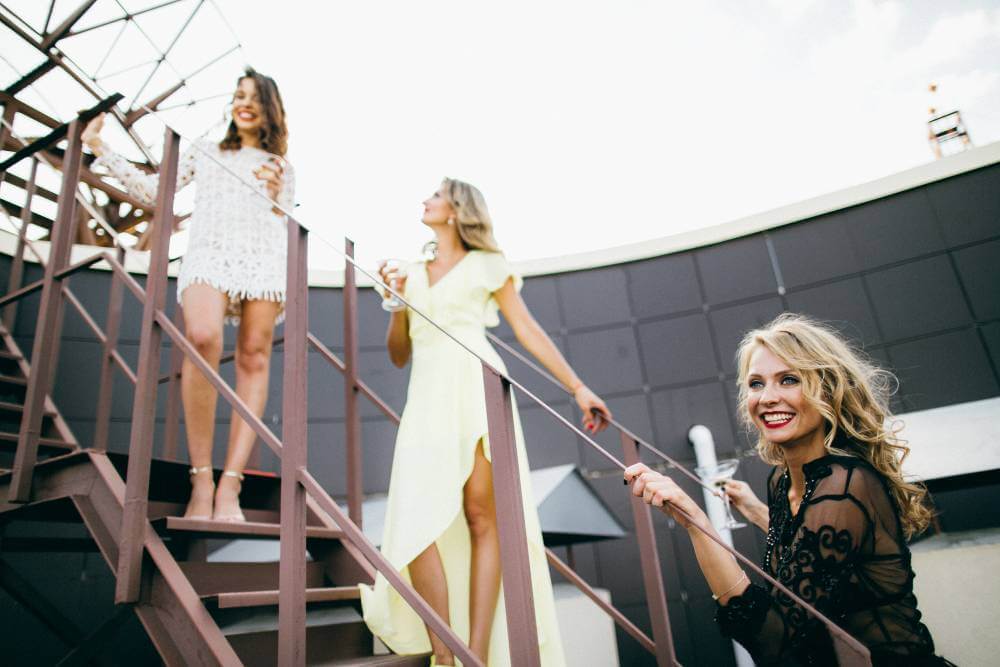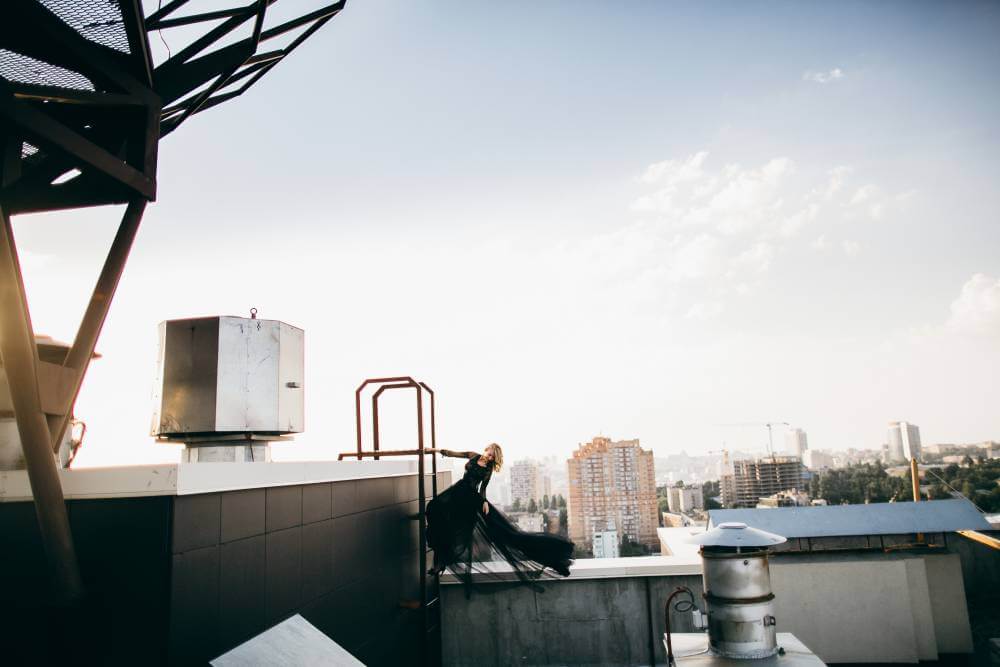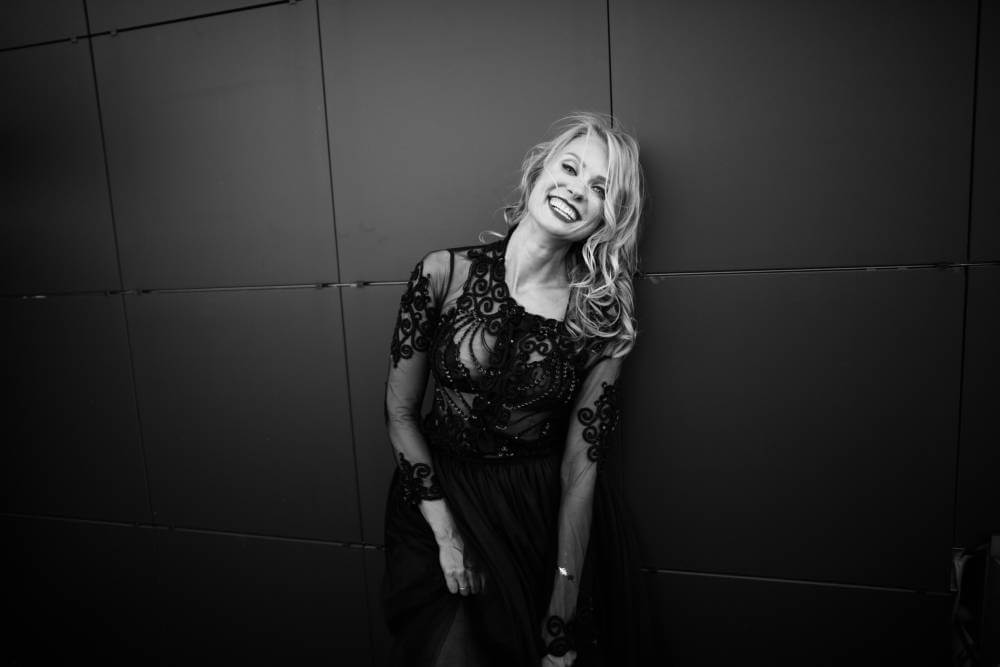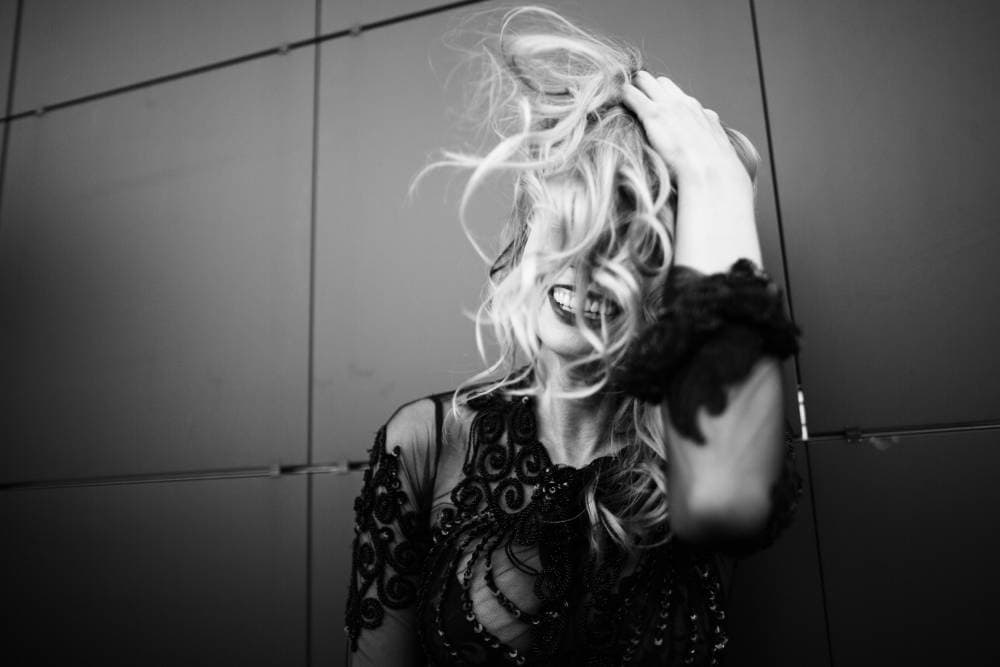 Ideas for a bachelorette party: all at once
Think of Girls' Day as a full-day quest during which, for example, you meet for a morning yoga class, then go shopping, and then go to a restaurant or nightclub, ending the meeting with a pajama party. If you want to have it this way, or you have your own ideas on how to make a bachelorette party unforgettable, nothing is impossible. Your party can have everything at once.
For example, Nastya came to us with specific wishes. She wanted to spend a relaxed day with her two best friends and watched the sunset in an unusual place. And here's what we did for her.
First, the girls met in one of the beauty salons in Kiev, where they dressed up and changed under the guidance of a stylist, make-up artist and hairdresser. All this took place in a light and funny format, the girls chatted and laughed a lot. As a result, each of them embodied a certain image, was beautifully dressed, made up and with a cool hairstyle – is this not the dream of each of us?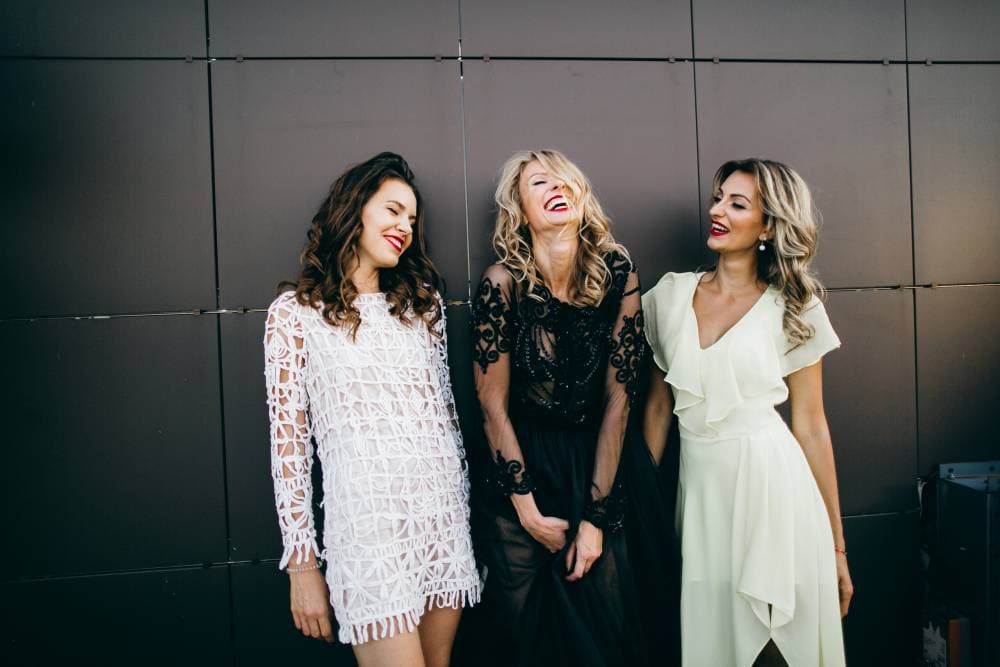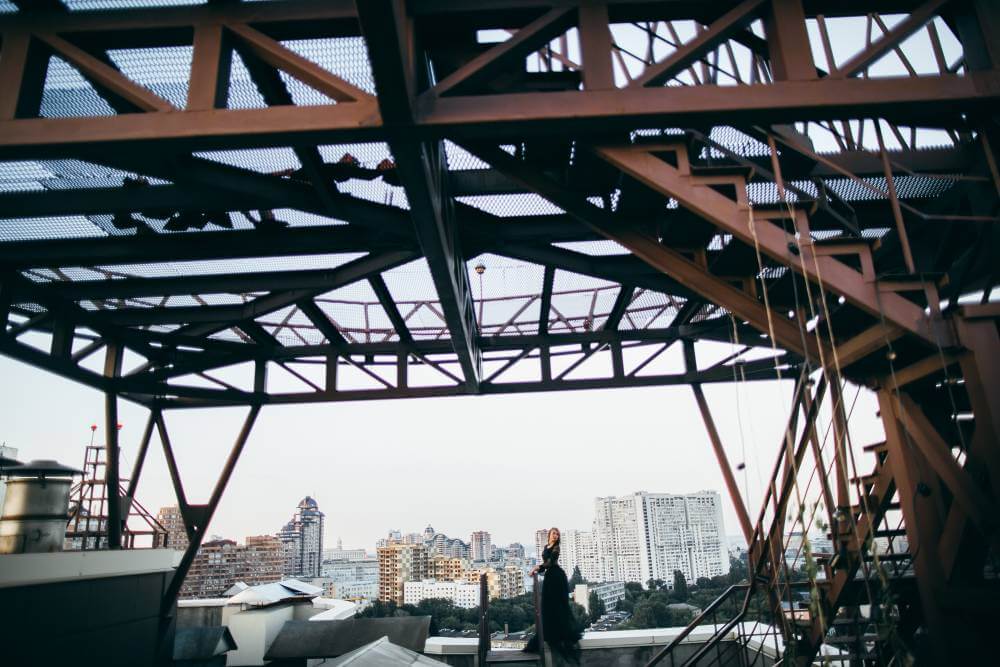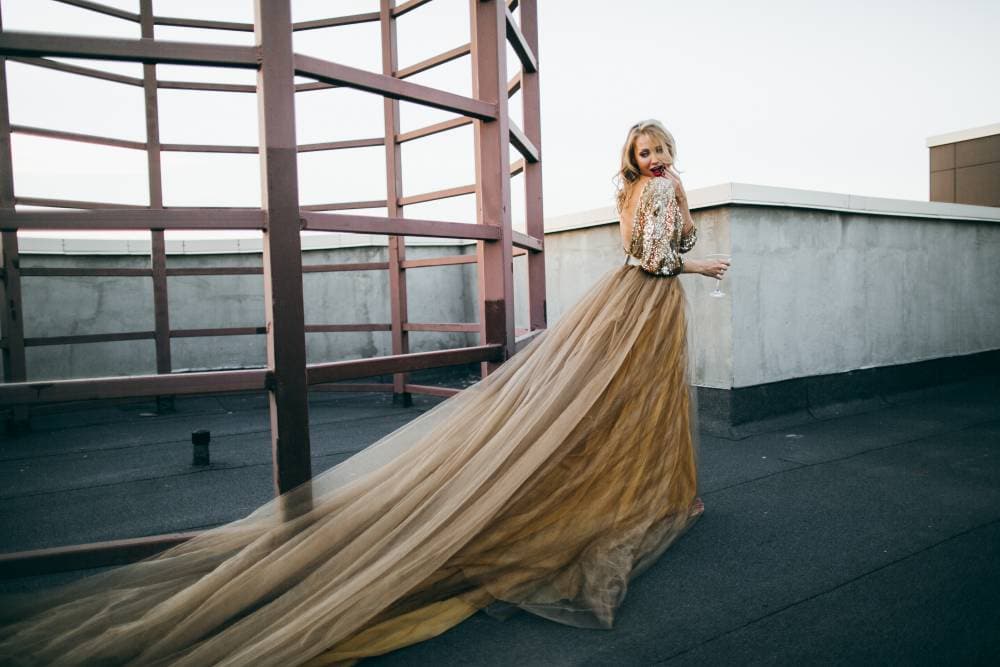 MAKE AN APPOINTMENT FOR A MEETING WITH OUR WEDDING PLANNER
THANK YOU!
OUR WEDDING PLANNER WILL CONTACT YOU SOON!
MAIN PAGE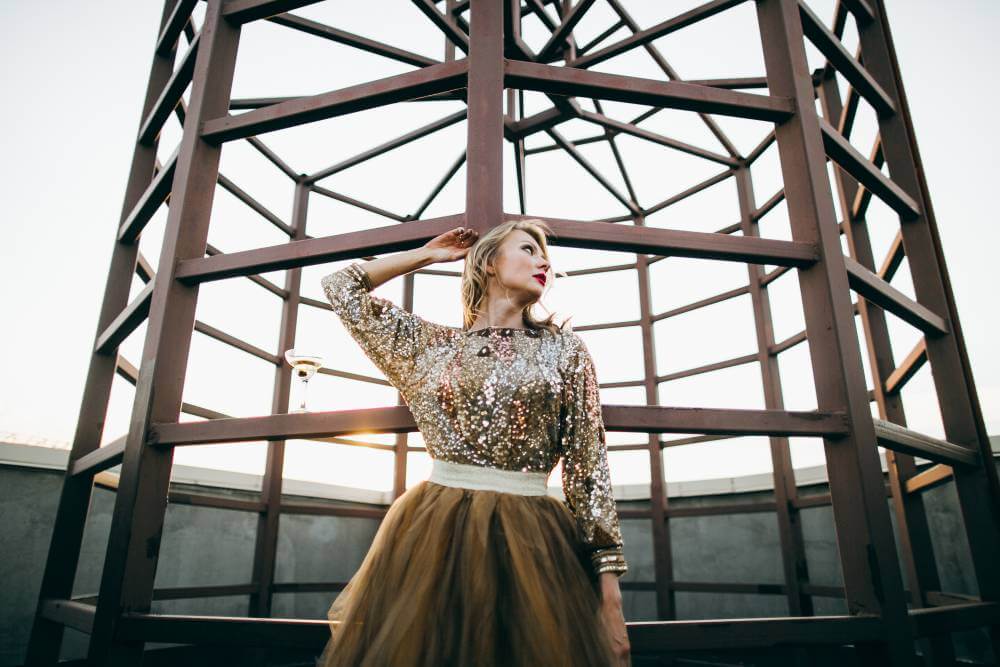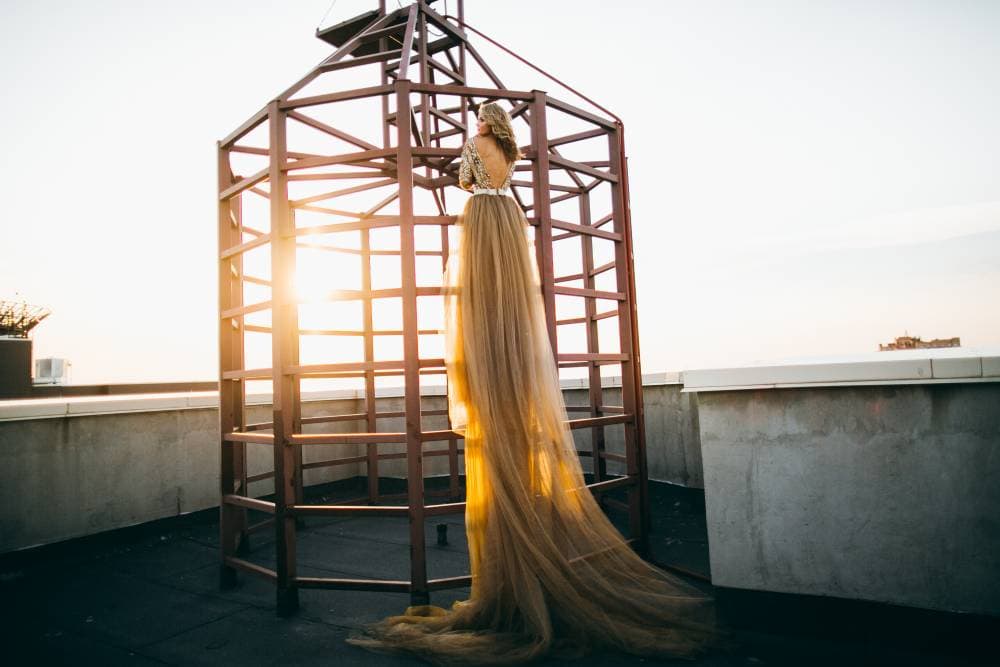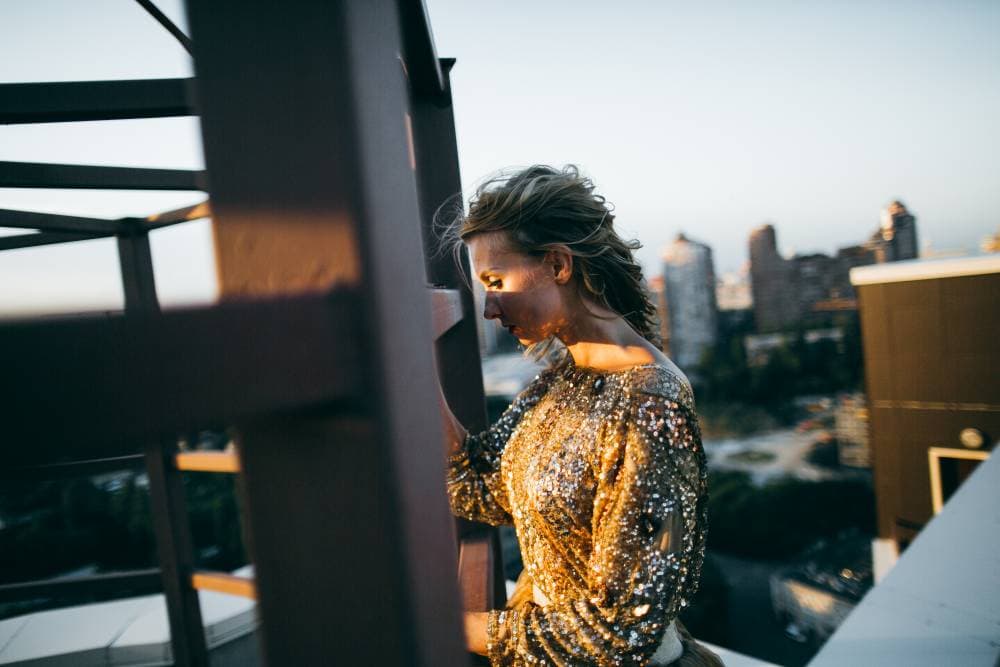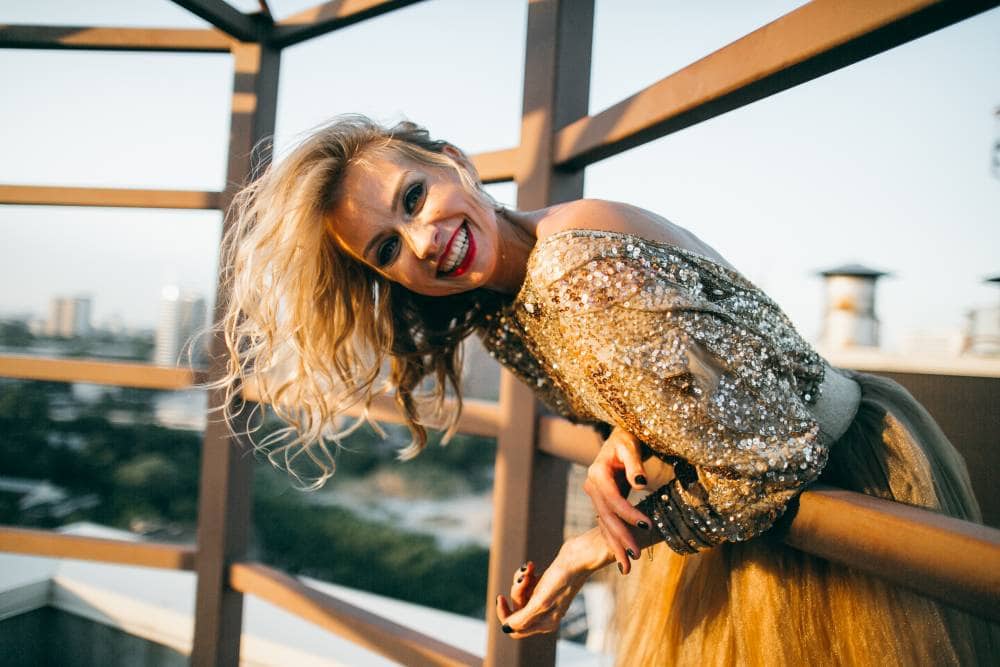 Then the girls went to the location, where a photo and video session awaited them. When we asked Nastya where she wanted to spend a bachelorette party, she said that she dreamed about a non-standard place in which there should be no strangers. And we had created a unique place on one of the Kiev skyscrapers.
In addition to the urban roof and panoramic views of the city, the girls were awaited by a stylish photo zone, decorated in black and gold tones, matching the color of the beautiful bride's outfits. In the same style, a cocktail reception was organized as a candy bar.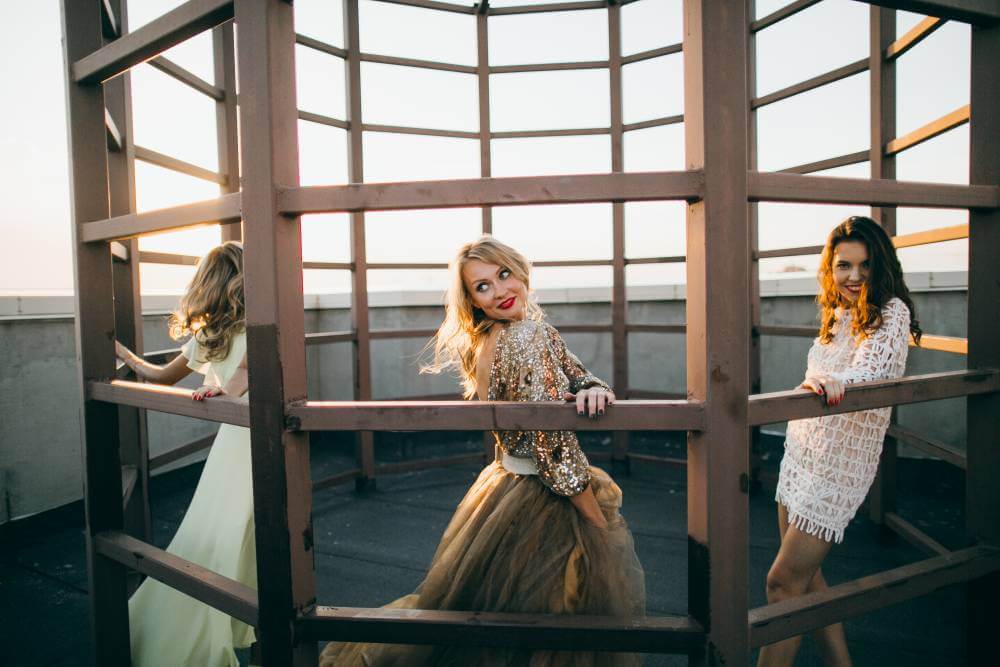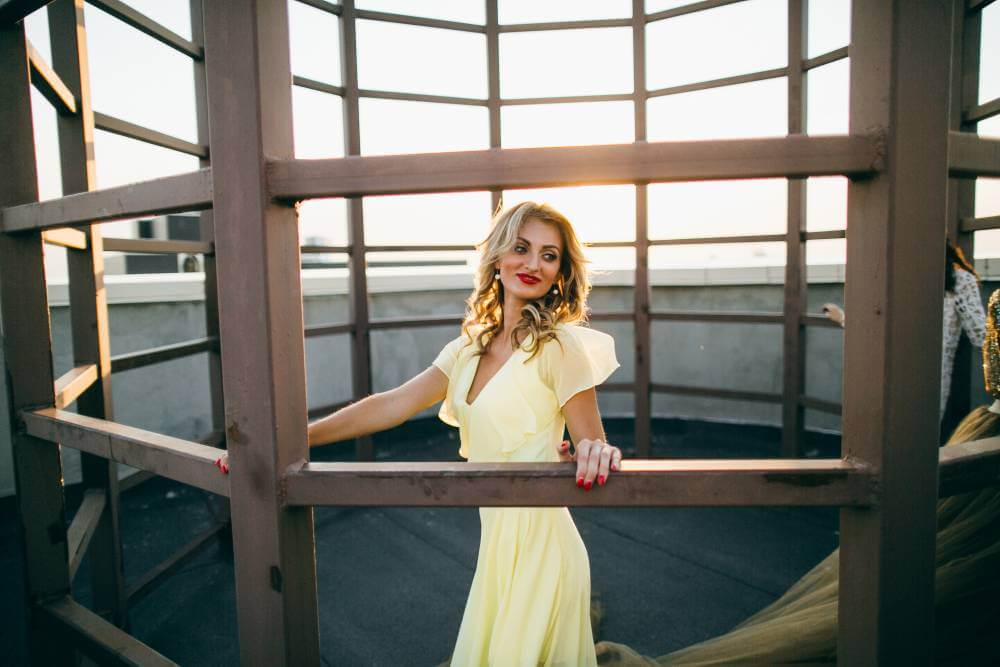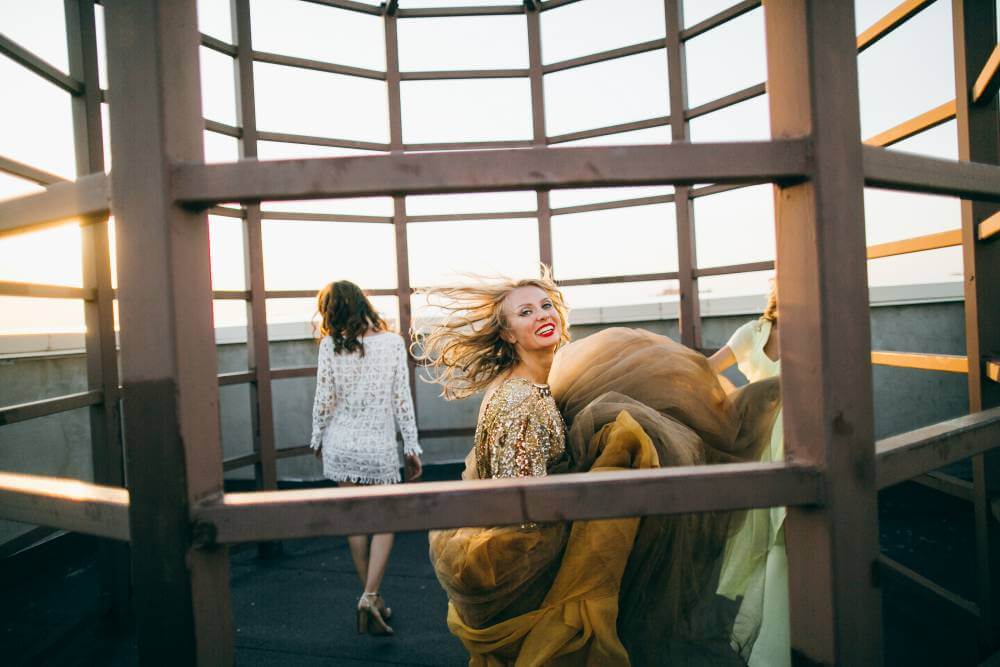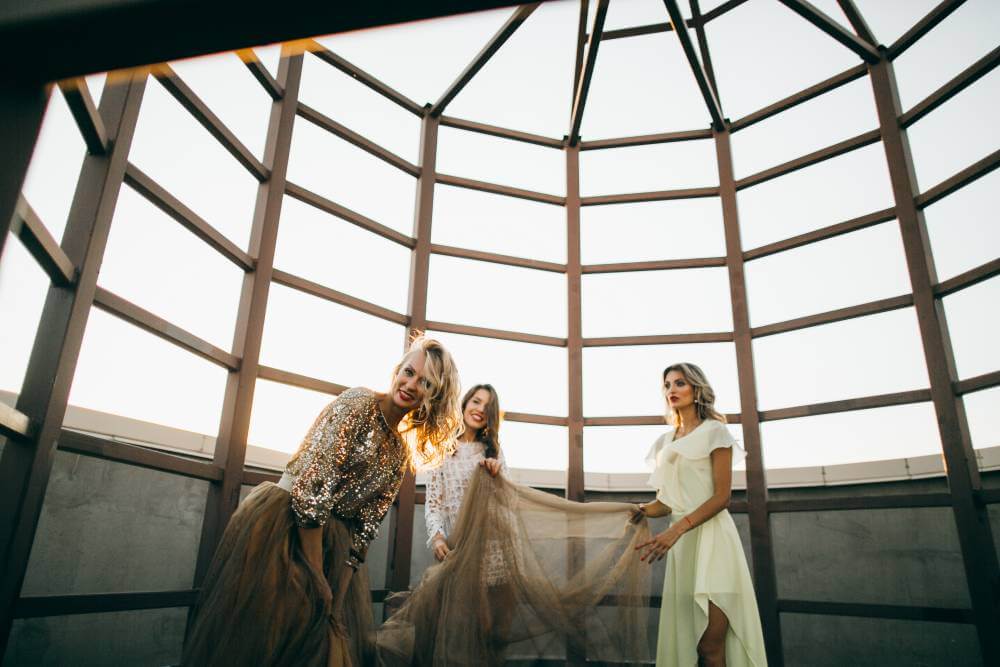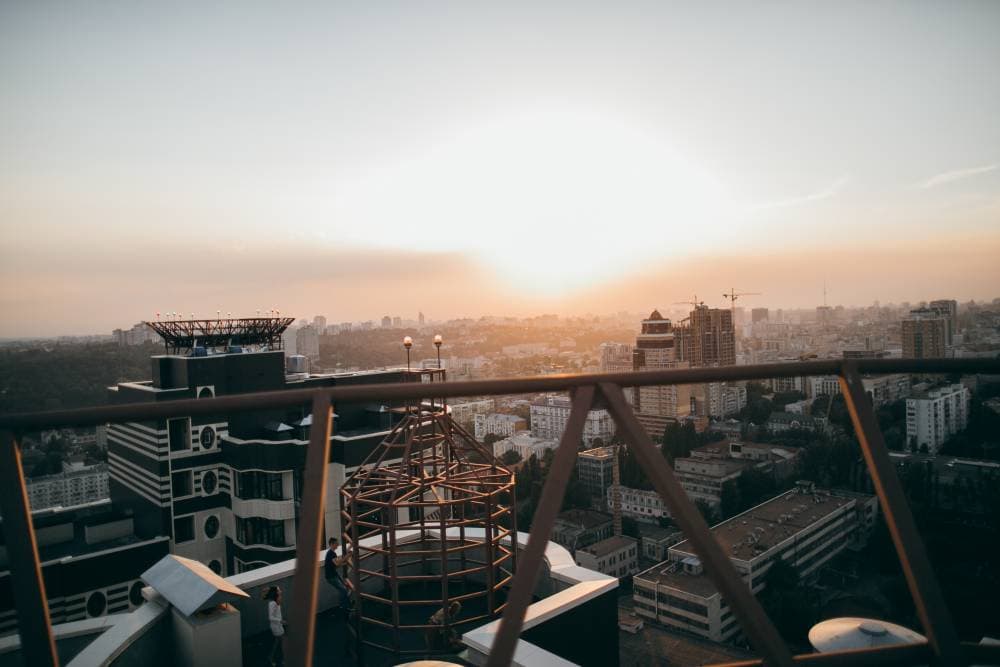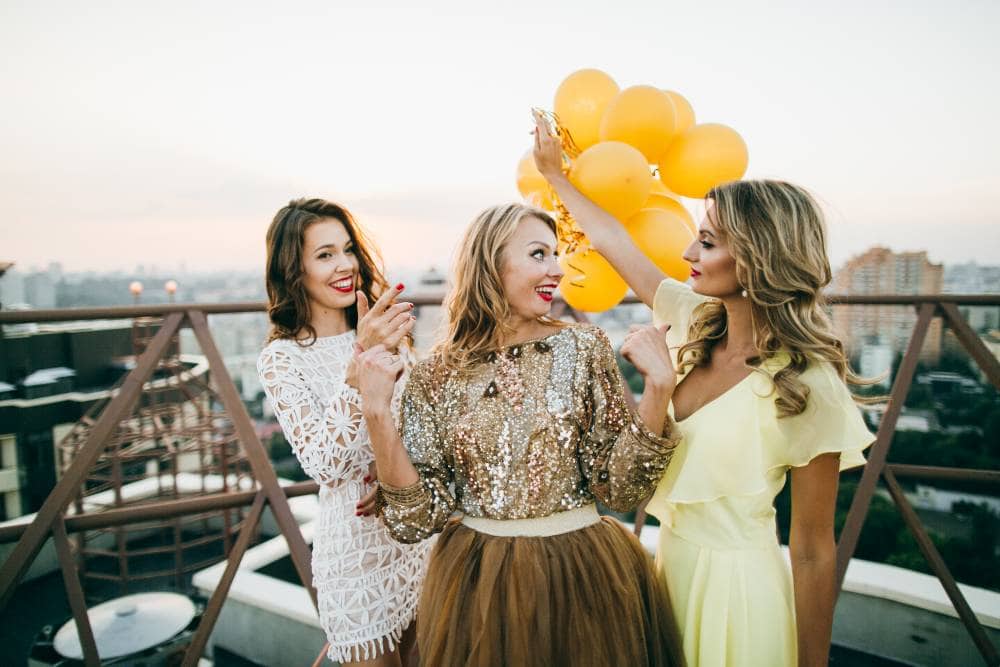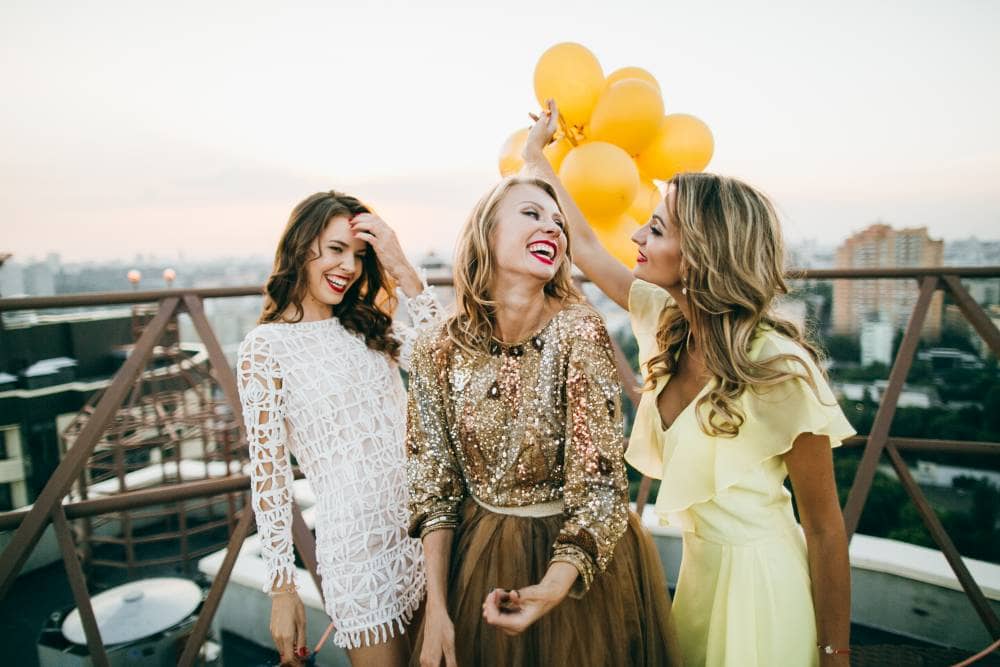 The good mood did not leave the friends – they posed, took pictures and enjoyed each other's company. The bride changed two chic looks – from a fatal lady in black to a cute princess in a gold dress with an endless train. And in the evening a beautiful sunset awaited them – everything was exactly as Nastya had imagined.
The atmosphere of the women's party turned out to be intimate, light and unobtrusive. The bride invited only her closest friends, and they spent a wonderful day together, captured in vivid photographs.
This is just one of the options for a Kiev bachelorette party. At your request, we will offer a similar, quieter or, conversely, eventful day for you and your girlfriends. And if you are bridesmaids, then with our help you will make an amazing surprise for your happy girlfriend by organizing your day in complete secrecy from her.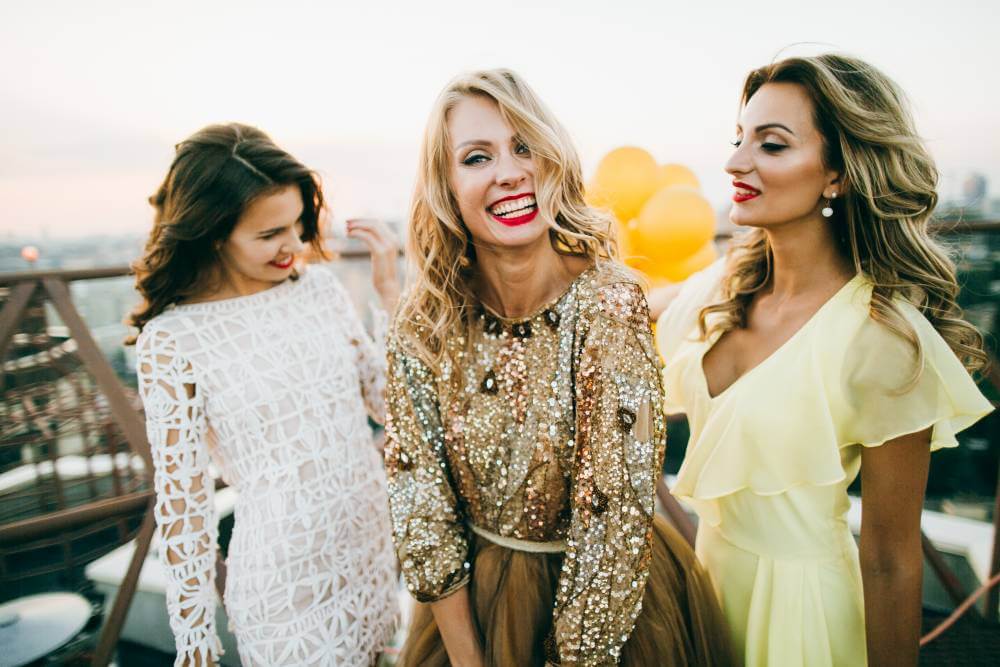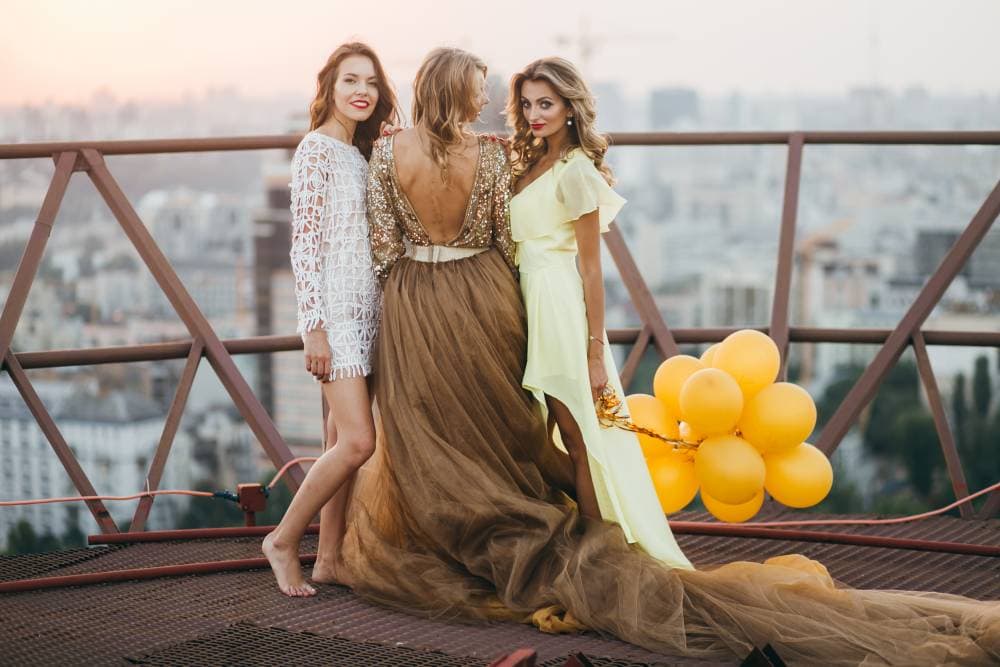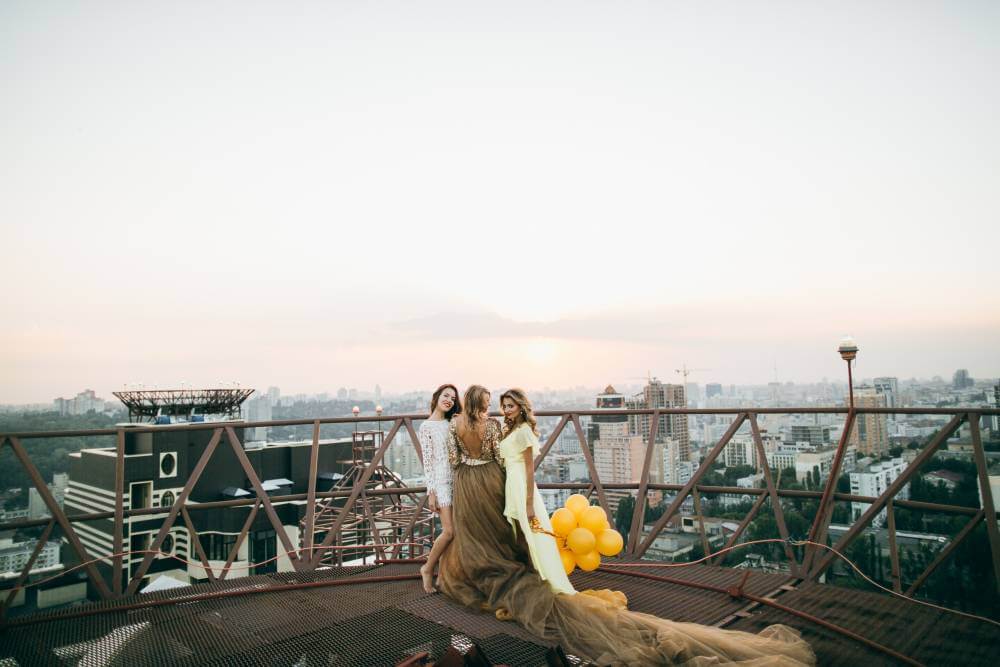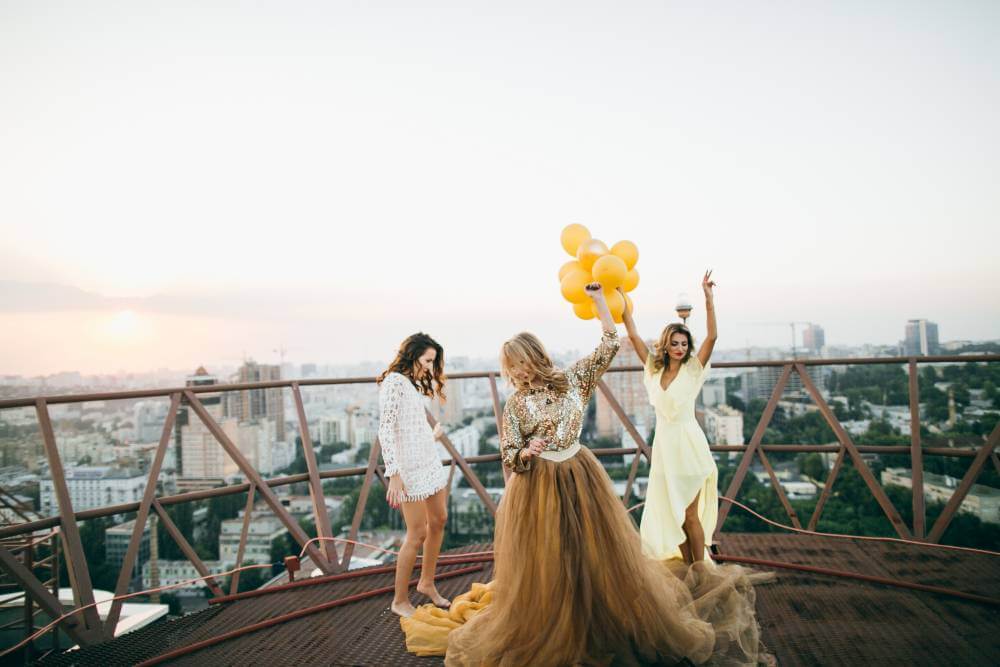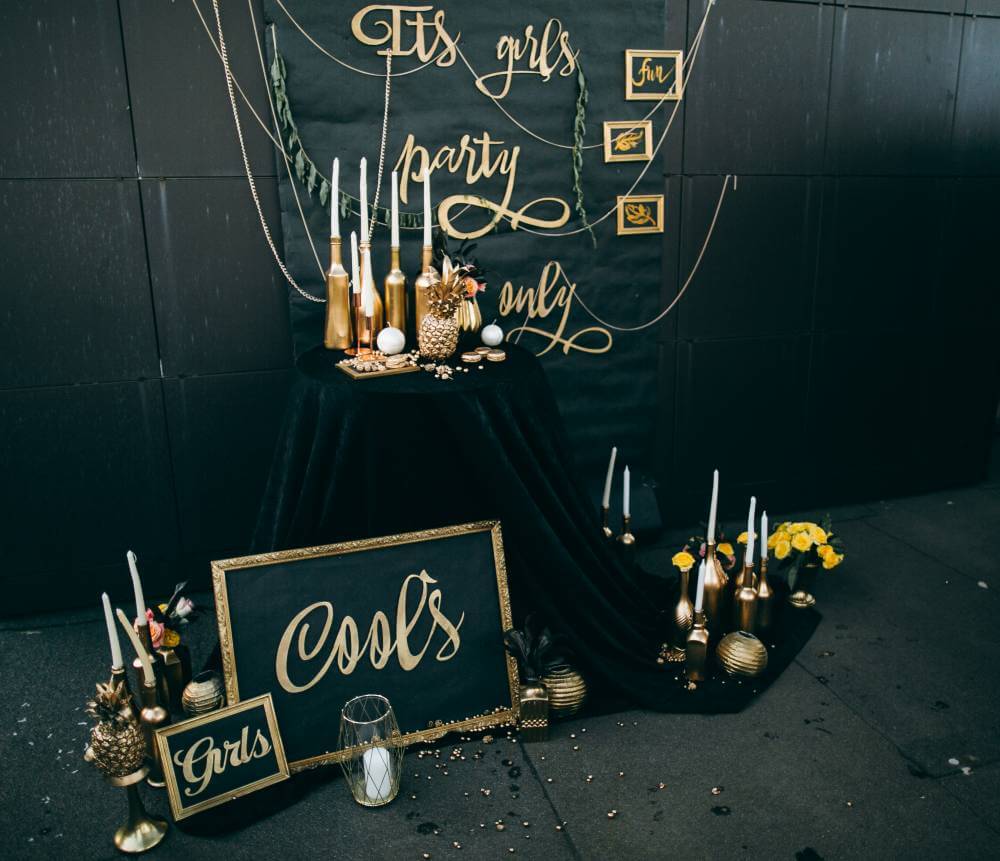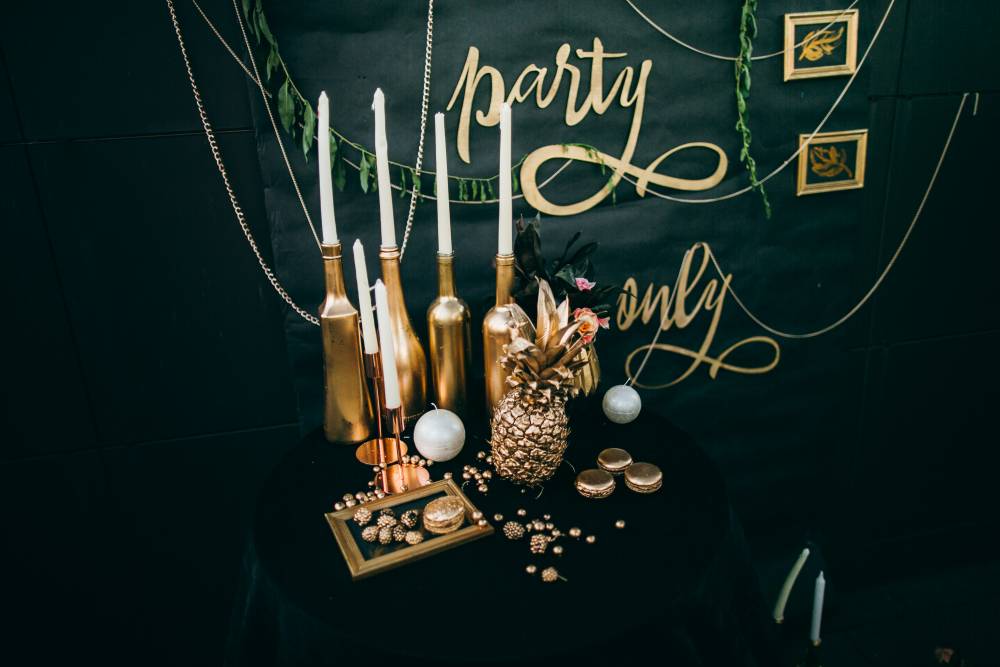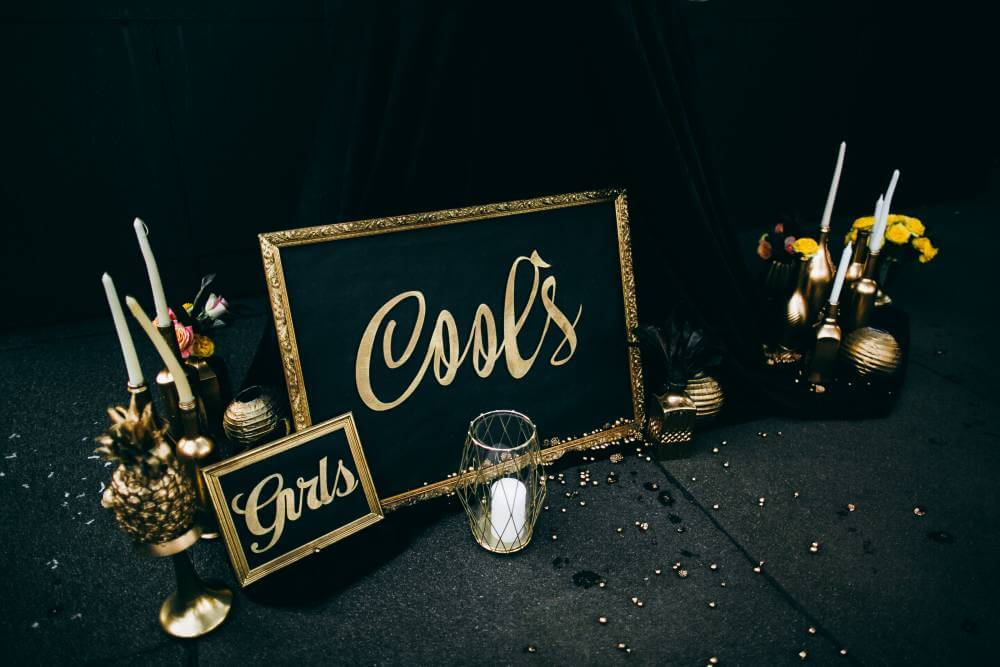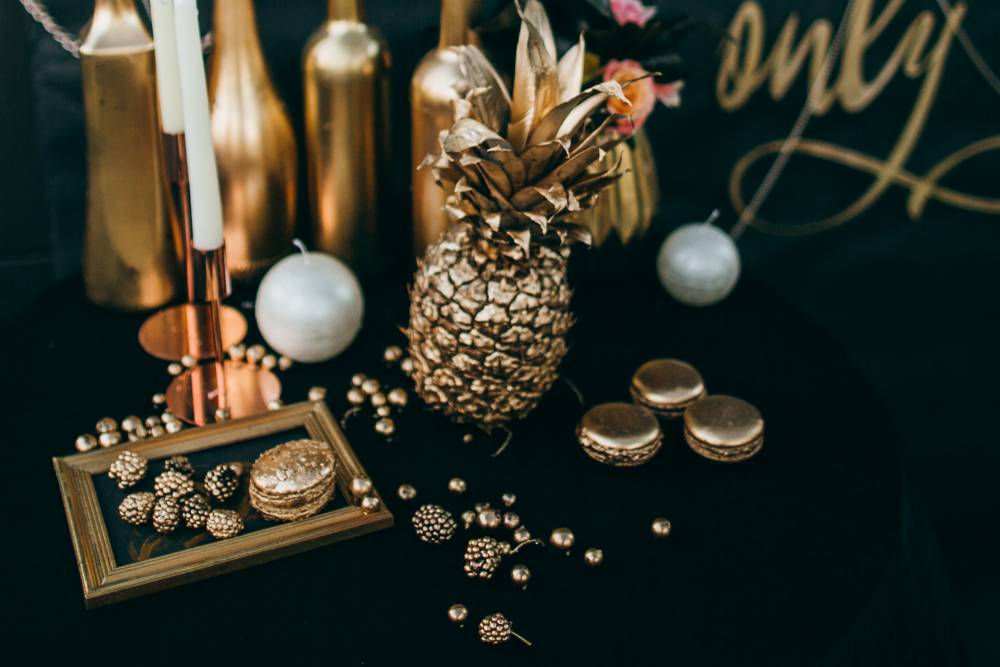 Places for a bachelorette party: how to choose the one
Some of our clients, like Nastya, have come up with an idea for a bachelorette party, but do not know in which specific place it can be implemented. Others know exactly where to celebrate a bachelorette party, but have no idea how. Still others do not know what exactly they want, but expect unforgettable impressions from its day. We will gladly fill your bachelorette party with positive emotions and bright colors, no matter at what stage you are in defining your desires.
If Nastya's Kiev bachelorette party does not seem extravagant enough to you, we will offer you something more grandiose. For example, why do not fly in a hot air balloon or indulge in an extreme sport? Or maybe you want to go to a costume party or take off to another country for the weekend? And if you think that the obligatory guests of a bachelorette party are strippers, we will invite the most attractive and incendiary ones for you.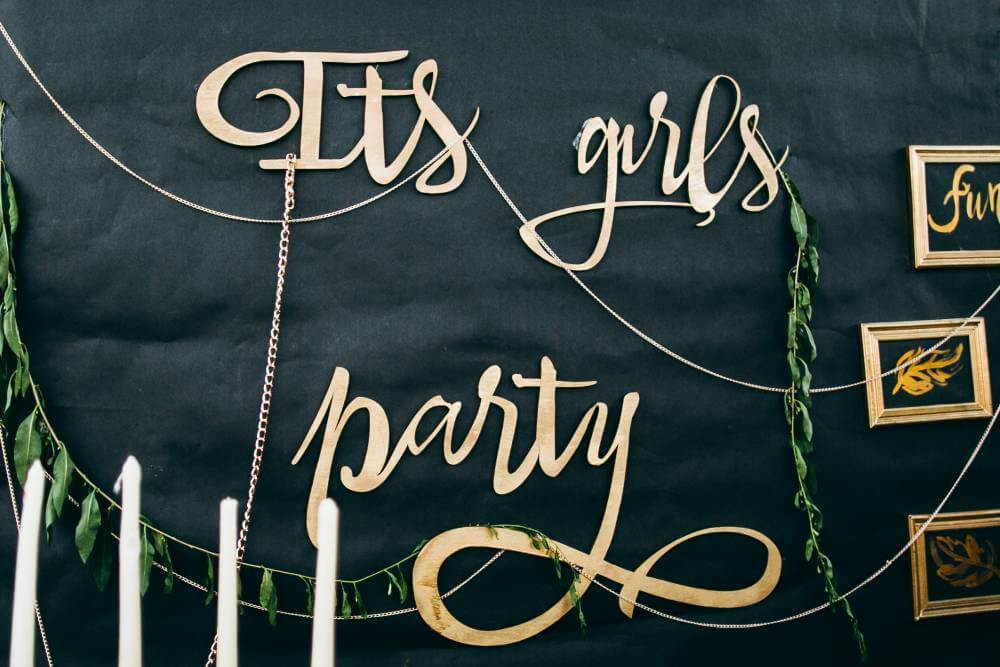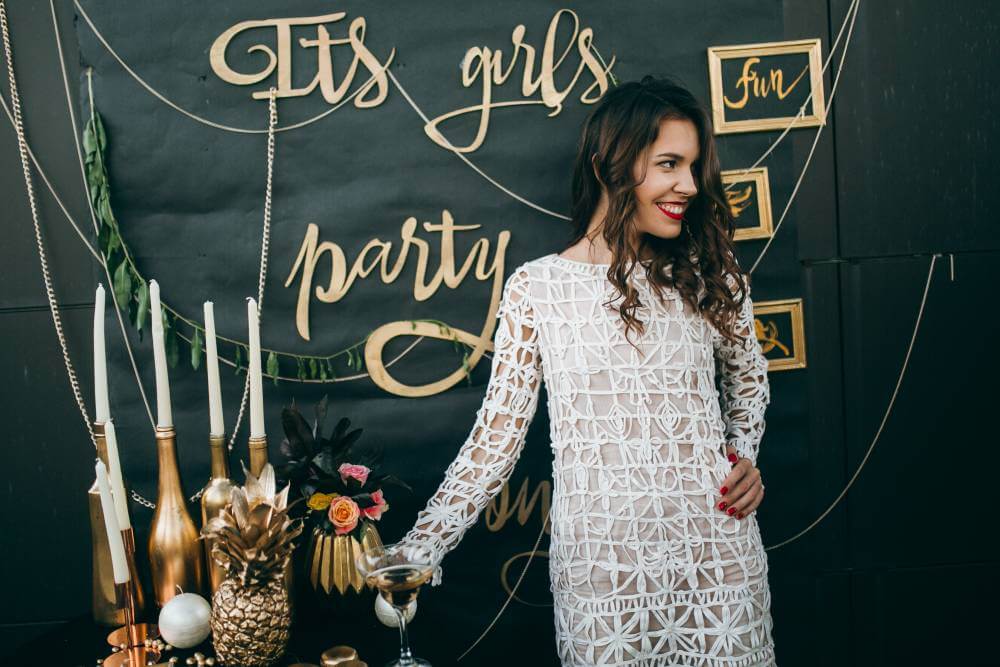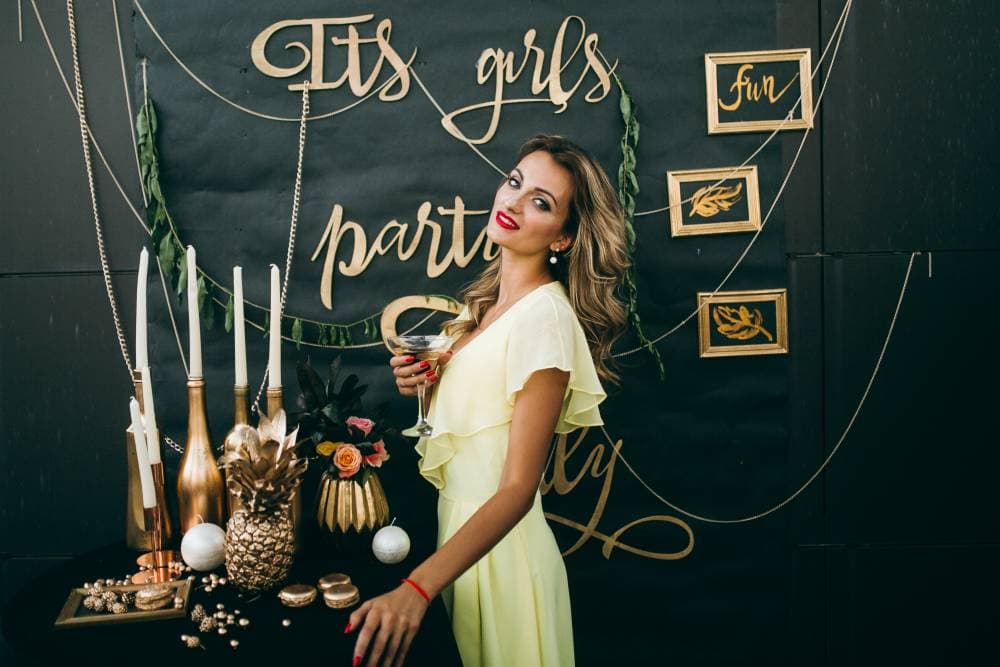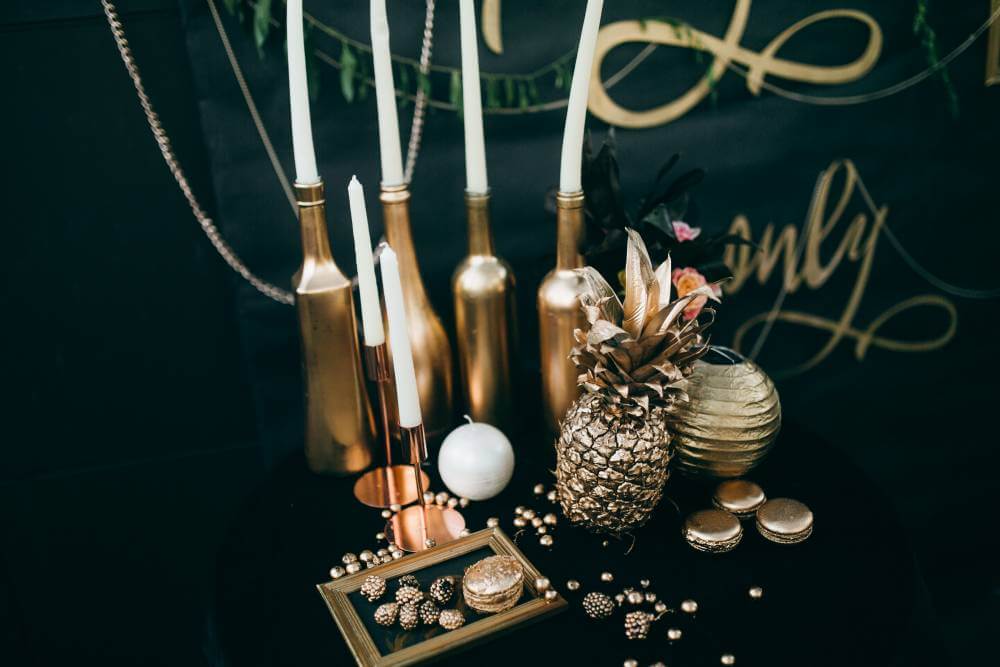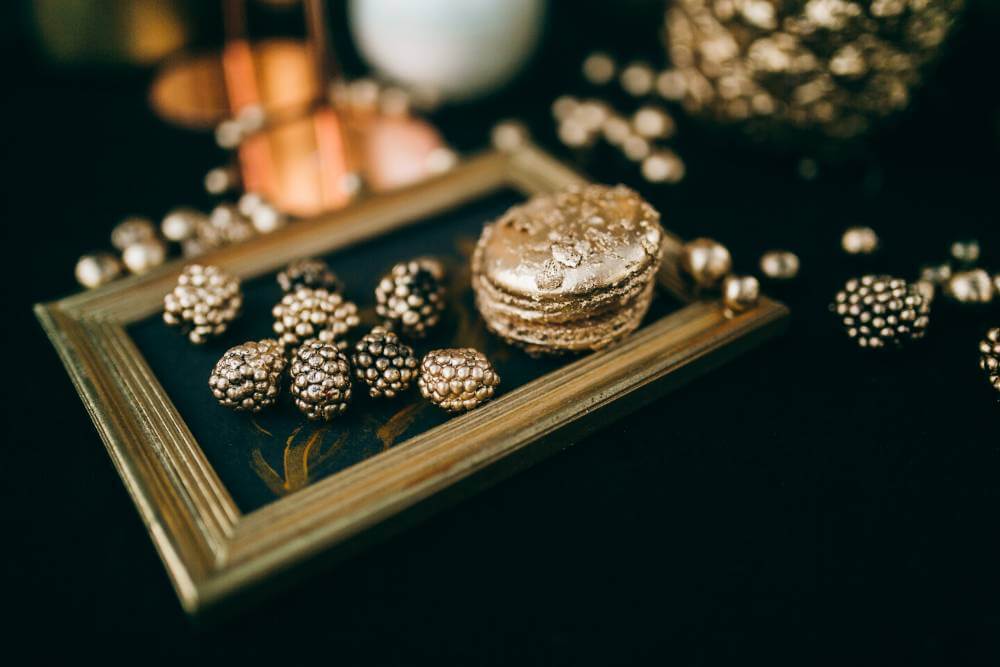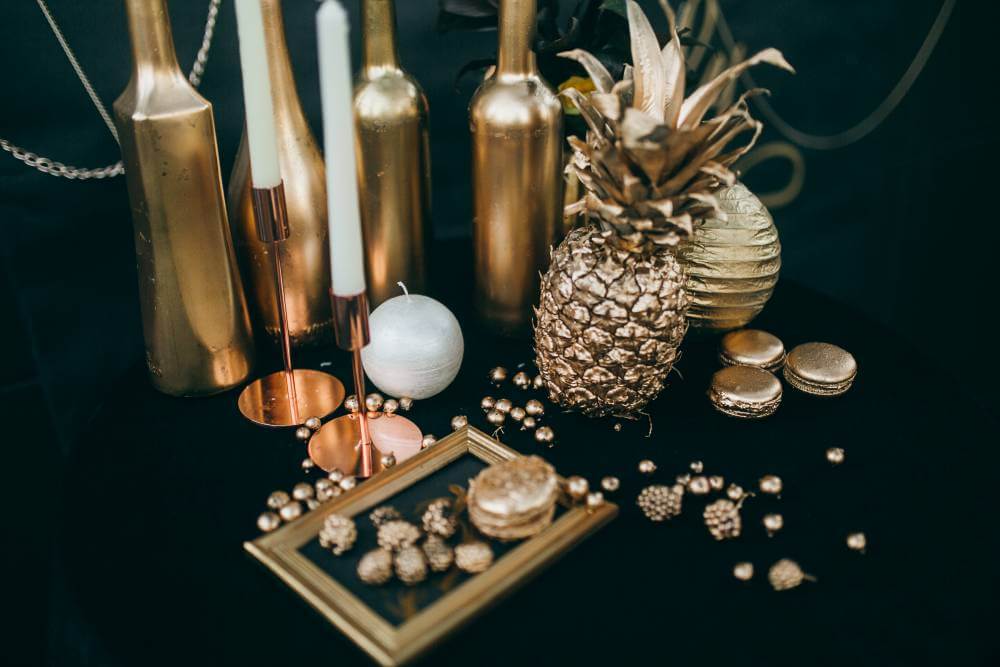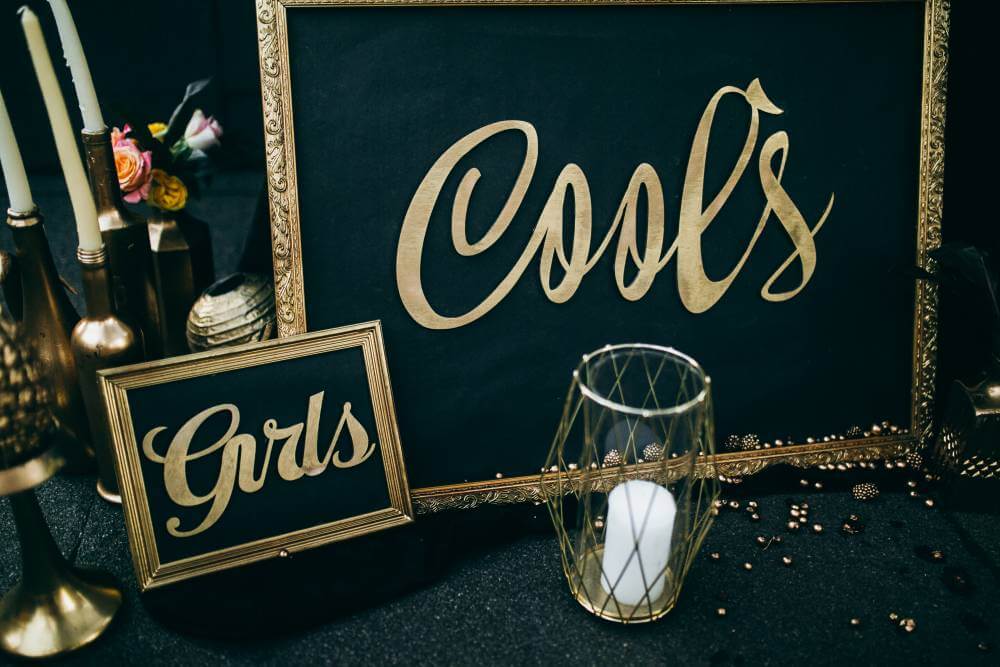 Some girls, on the contrary, want to relax and spend a bachelorette party calmly. In this case, the roof will also become an ideal location – after all, on it you can retire with your best friends and, wrapped in blankets, drink mulled wine and talk about everything in the world until sunset.
The idea for a bachelorette party can be more themed. So your lovely company can go to the spa for the whole day, where you will have a massage and a variety of treatments. All this can be combined with a sauna, delicious food and a stylish photo session.
If the bride has a lot of bridesmaids, the best transport to move them around the city is, of course, a limousine. It can be decorated in every possible way so that everyone you meet knows that the bride and her fiery team are coming. You can also decorate the very place of the women's party.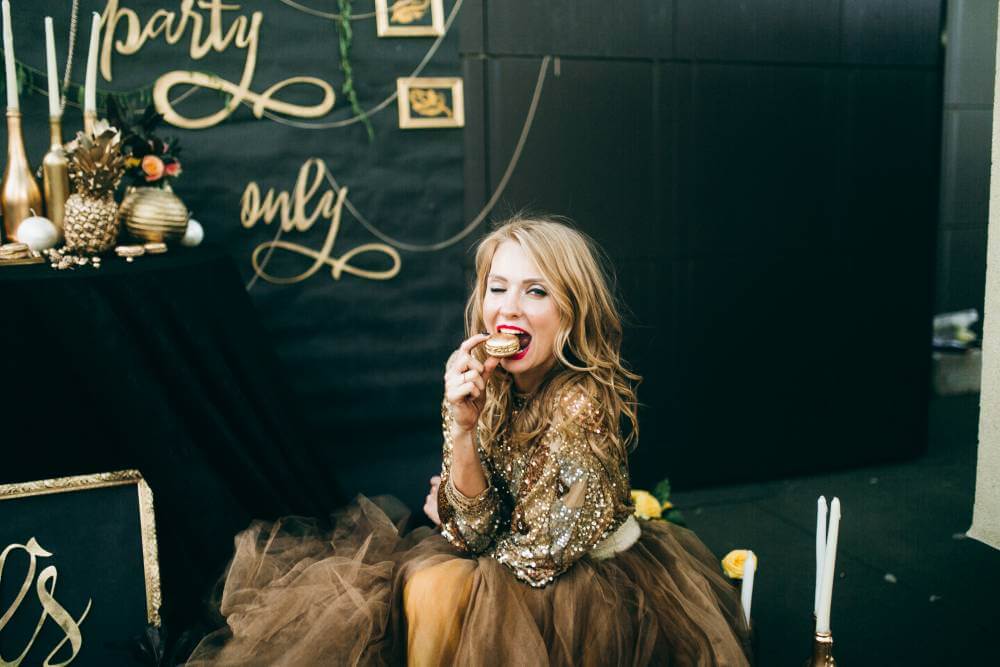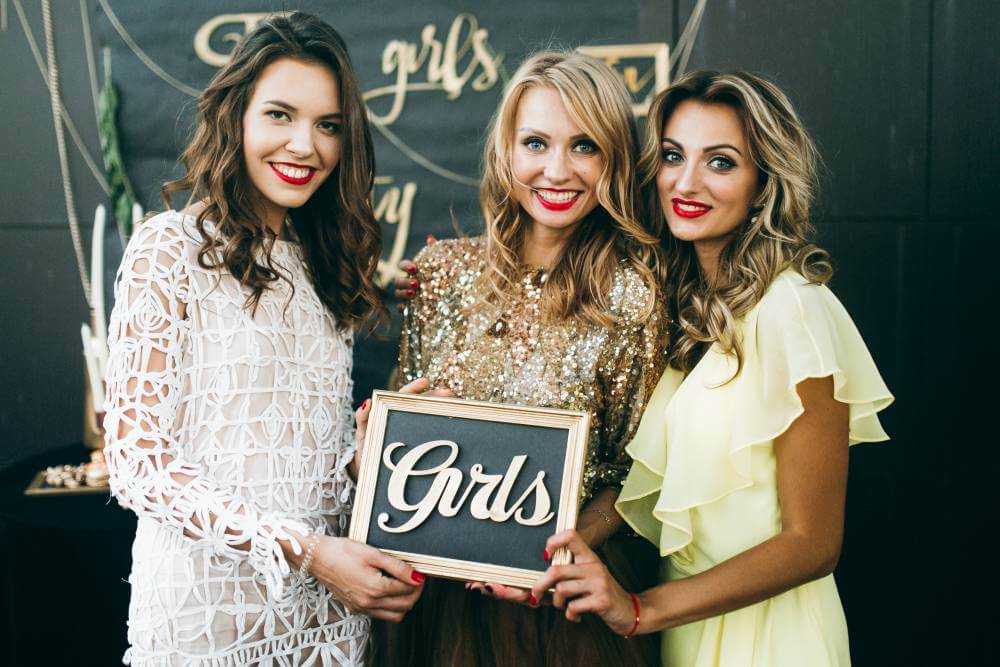 Just look at what an original photo zone turned out at Nastya's bachelorette party. The black canvas, complemented by thematic inscriptions in gold, looked harmoniously against the background of the black wall on the roof. Candles in golden candlesticks and live yellow roses are placed on and around the table decorated with black velvet. The candles lit in the evening created a special atmosphere of warmth and something very personal. Such an evening is conducive to sincere conversations, discussion of experiences and expectations from the upcoming wedding. What our girlfriends did.
Let's determine together with wedding coordinator how and where to spend a bachelorette party, so that it is emotional, interesting and uncommon.