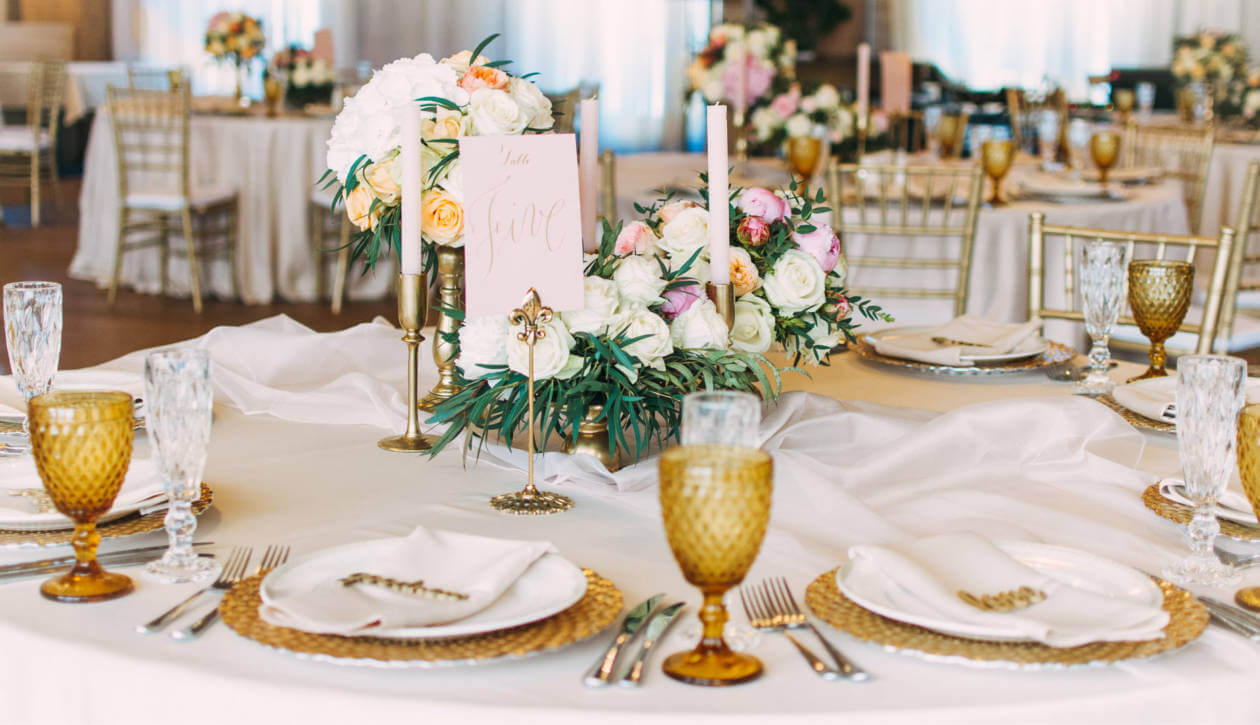 Dear bride, our congratulations! Now a very quivering, exciting stage begins, an interesting adventure is ahead, and now you need to be carefully prepared in advance.
Let's get to know each other closer! We are a wedding agency "True Love", we are ready to help you to plan your wedding with great pleasure and love.
You may think that the main thing is to find wedding specialists and book them. And half the work is already done. In fact, making a prepayment is only a small part of the preparation. It is important to connect everyone with each other, write a detailed checklist for each, control the preparation, as well as their work at your wedding.
The main service of the agency "True Love" is a comprehensive wedding planning in Kiev. Let's take a closer look at what it includes:
Selection of an ideal place for your wedding: a restaurant, a location in the forest, or indoors.
Creation of a general concept of the wedding, a detailed description of an idea and content.
Selection of a wedding host, master of ceremonies.
Selection of photographers, videographers, ideas for shooting a Love Story.
Creation of invitations, personalized cards, banquet menu, other polygraphy.
Entertainment program offer.
Planning of zones for guests: candy bar, photo zone, lounge zone, children's corner, wish zone.
Scenario for the wedding day, and program details.
Detailed timing plan for the wedding.
Choreography suggestions for the first dance.
Detailed budgeting and ordering technical support (sound, professional light) to create a beautiful picture and atmosphere.
Transport for a couple, a comfortable transfer for guests to a restaurant and after the celebration.
Selection of personal services' masters (make-up, hairstyle), trial wedding look.
Choosing a banquet, a buffet menu.
Tasting of a wedding cake and a candy bar to choose the best toppings and sweets.
Preparing checklists for team members, meetings, ideas discussion.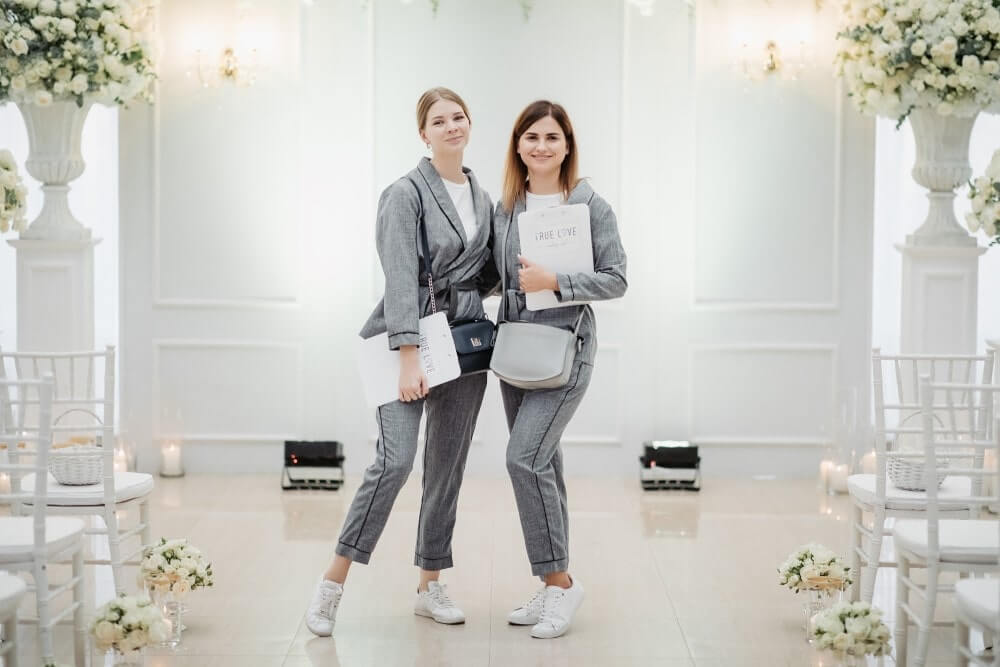 What is the advantage of planning and conducting weddings by the agency "True Love"
We know how long you have been waiting for this moment. Perhaps you have dreamed and known exactly how your wedding should be look like. Or it may be difficult to imagine at once, and put a picture into one puzzle.
"True Love" is always ready to help. We have an extensive experience in creating small and big weddings. Sometimes brides get involved in the process, they are interested in details and want to become an integral part of the preparation. But more often they trust us completely, spending a minimum of their time for it. It is important to feel, hear yourself, if you have dreamed from childhood to plan a wedding yourself – the agency "True Love" will gladly become an assistant accompanying at all stages.
And if you are ready to completely trust the professionals, we will do our best to make you satisfied and happy.
We stand for transparency and optimization. First of all this concerns the wedding budget. Regarding to our experience we know how to distribute it correctly, what is worth, what not to save on, what can be replaced and reduced.
Having planned more than 100 weddings, agency "True Love" has developed its own method of detailed budgeting. We need a specific amount, or a range it should not be over. A turnkey wedding is not only the creation of a concept, style, but also control and correct distribution of your money.
MAKE AN APPOINTMENT FOR A MEETING WITH OUR WEDDING PLANNER
THANK YOU!
OUR WEDDING PLANNER WILL CONTACT YOU SOON!
MAIN PAGE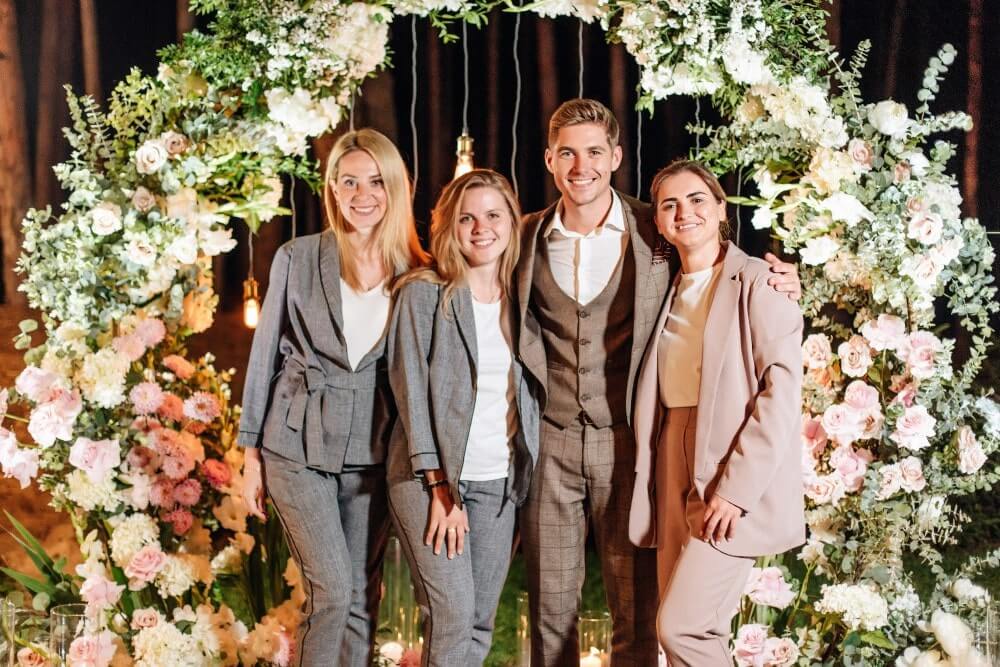 How wedding planning is held by "True Love"
All process consists of such steps:
A First Meeting. We can arrange the first meeting, you just need to call us (or send a message) +38 093 654 11 86. We will specify your wedding date – it is important for us to provide services with the best quality, so we take one wedding a day. We will make an appointment at a convenient time. The first meeting will take 1-2 hours. It is very important for us to listen to your wishes, preferences, fears, and the vision of the wedding. We will be asking many related questions to clarify all details. Feel free to talk about all the nuances.
Preliminary presentation and budget calculation. Within a few days a detailed estimation, our vision, style, full description, comments will be sent to your email. We are ready to provide extensive information, because planning a wedding in Kiev is a rich and complex process that requires detailed explanations.
Signing a contract and approving all details. You will need some time to get acquainted with our information, it can take from 2 to 7 days. Our planners will be happy to answer your questions and comments. After discussions, we will sign an agreement. At this point a prepayment is made for the date of your wedding to book the team of "True Love" agency. Prepayment can be made by card or in cash.
Active preparation. A folder on Google Disk will be created for your wedding with an access to all information. We also will provide you with an individual, detailed preparation plan, with a description of the stages and details of the wedding. Your main task is to choose and enjoy, and say your wishes.
Day X. Our team will be responsible for control and order at the wedding. Starting their work early in the morning until the happy guests return home after the event. A turnkey wedding in Kiev from the agency "True Love" includes every wedding detail that you may not even guess about, because we have thought out everything carefully.
Photo and video materials. Our planners control the deadlines for the  photos and videos, check their quality and compliance with the prescribed wishes. "True Love" does not say goodbye after the wedding. We often plan other events for our couples.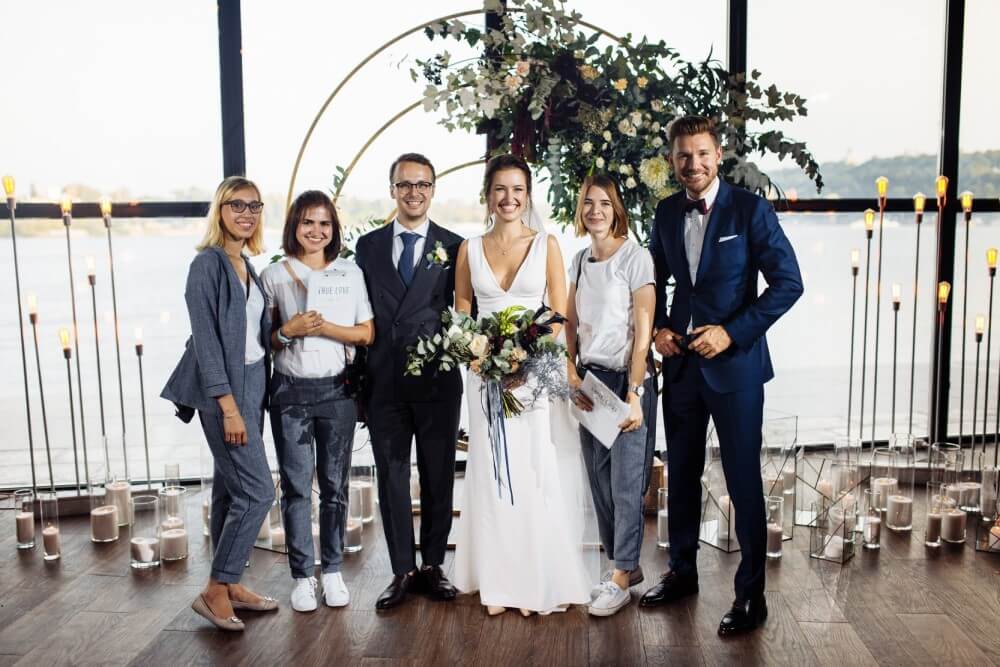 How much the services of wedding agency "True Love" cost
The standard fee for a complex wedding planning is 10% of a wedding budget. It includes: restaurant, decor and floristry, host, photographer, videographer, cake, show program, and others. For example, if a wedding is held in early spring, late autumn or winter, we are ready to provide you with the special agency fee.
It is important to remember  – wedding is not a cheap pleasure. High-quality services of photographers, videographers, decorators cost money. A good wedding will cost you a car. We calculate individually the budget of each event. At our first meeting we will be able to say the preliminary price of a turnkey wedding.
The advantage of the agency "True Love" is that we are imbued with each story, we feel and experience everything together with you. Our planners are hyper responsible, they understand the value of each event. Reputation is also very important to us. Most brides come to us through word of mouth. We are incredibly happy when we are advised to your girlfriends, colleagues and acquaintances.